The many variants of C2s built
Picture an eight-coupled freight locomotive. Chances are, you're thinking of a plain black loco, probably quite dirty, and with very little in the way of ornamentation*. Probably a painted number to distinguish it from hundreds of similar classmates; the crest or initials of the owning railway, maybe a worksplate hiding somewhere under the grime. There was rarely anything special about an eight-coupled freight loco.
And if you've been to China and seen the last C2s working into the 21st Century in industrial use, then you would have much the same mental image of a plain, filthy loco with little ornamentation. So why am I writing about bling? Well, it was actually quite common on C2s until the 1980s. Many railways had a 'pet' loco that was kept highly polished and adorned with decoration, often gaudy and elaborate, and I'd like to illustrate some examples. I can imagine that when we've finally finished our own C2, we will replicate a few of these decorations too. So, I'll start by illustrating some of the more common ornamentation, and then a few unique examples. For now I'll concentrate on the locos that were decorated during their industrial working career rather than those that have recently acquired outlandish# liveries or decorations for tourist or charter work.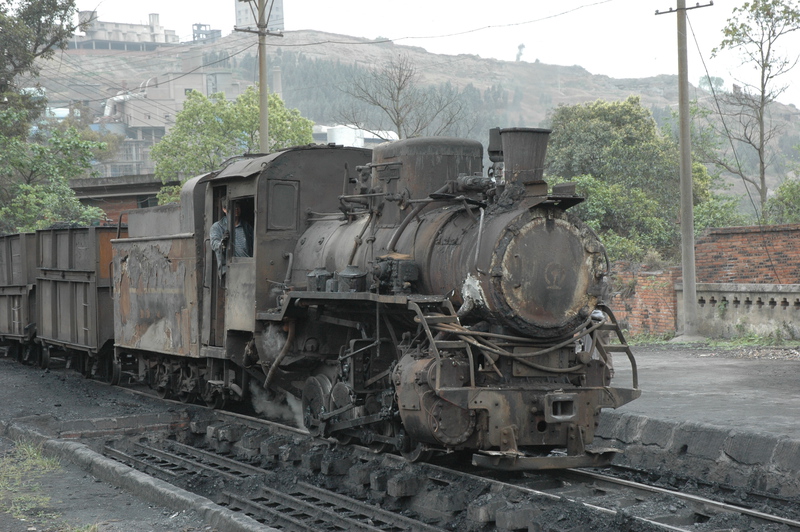 * Unless for some reason you're a fan of the GWR
# That is, not black with red wheels!
Standard Forestry Railway Logos
Many C2s were built by the Chinese Forestry Bureau, or operated on their lines. The Chinese Forestry Railways had an attractive logo, based on the logo of the main-line railways. This dated back to 1950 and consisted of a flat-bottom rail surrounded by a stylised version of the Mandarin character 'ren': 人, meaning person or people. The combined symbol looks like the front of a steam loco and represents the 'People's Railway'. The Forestry Bureau replaced 'ren' with a stylised version of the Mandarin character 'sen', which is used in the phrase for forest: senlin 森林. Cast aluminium plates featuring this logo adorned the cabsides and tenders of most Forestry Bureau C2s, as well as many locos supplied to other narrow-gauge railways. There were two standard sizes - those on the cabsides were about 300mm across while those on the tender sides were about 400mm. Some locos (including ours) also carried a large Forestry logo plate on the smokebox door.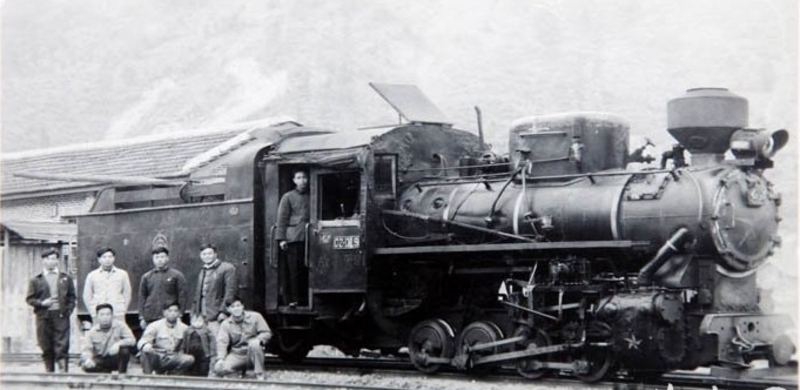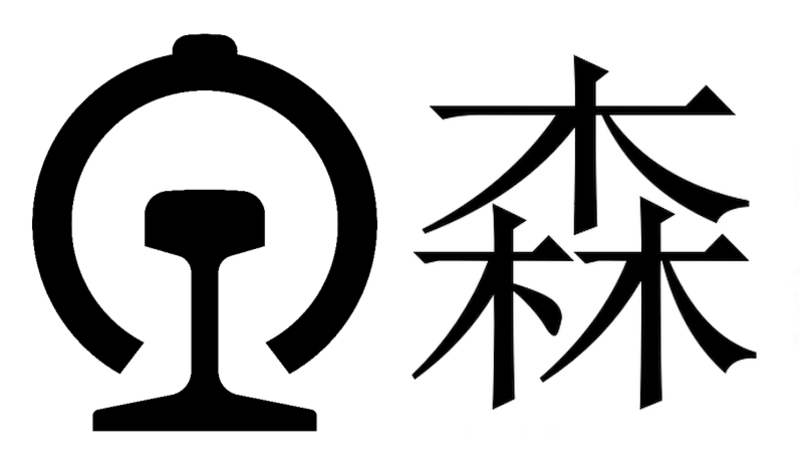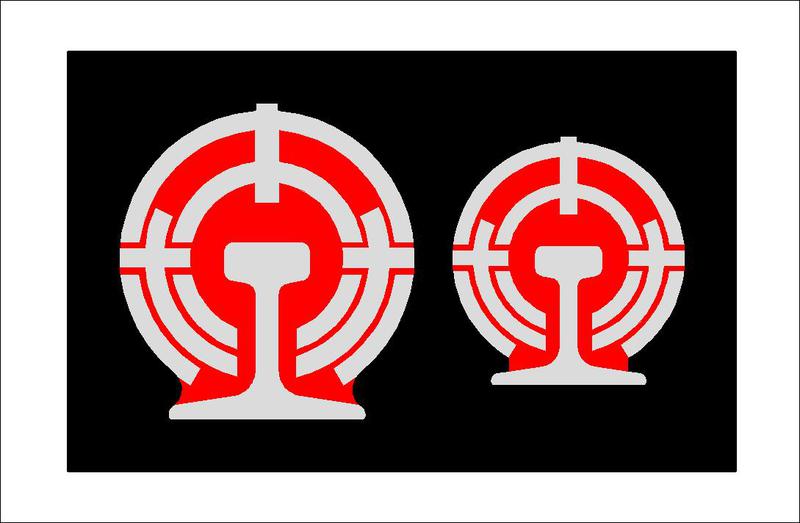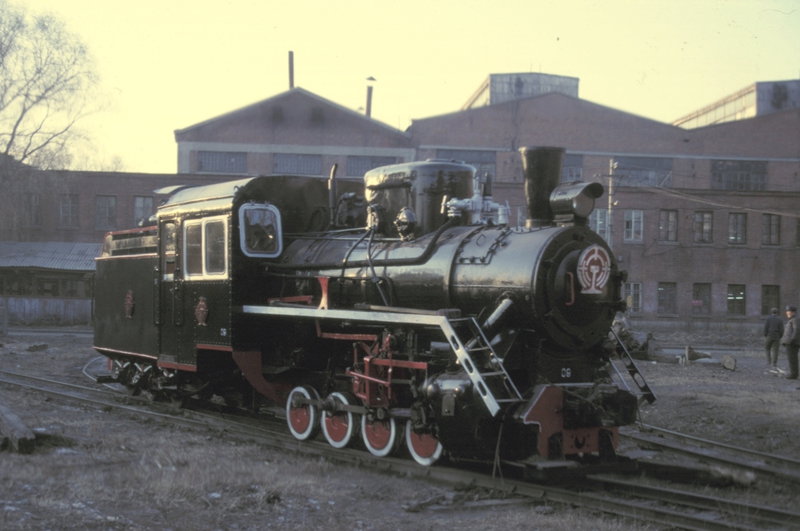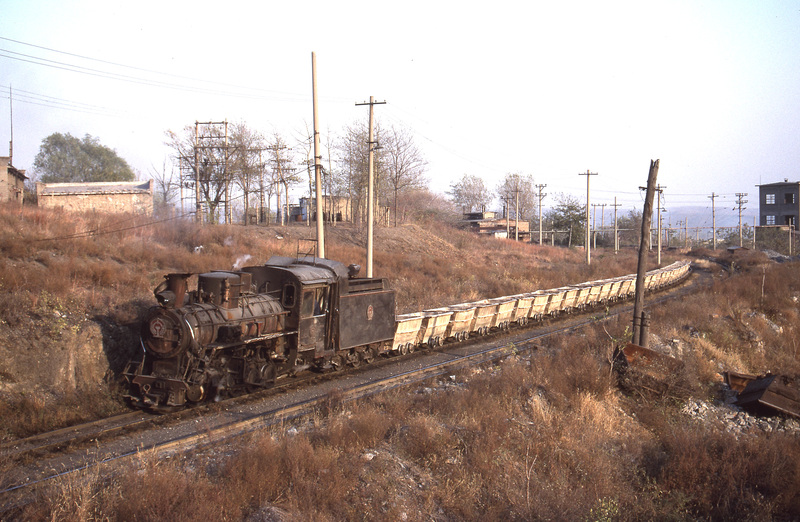 By the time we bought our loco, it had lost all five of its Forestry plates. We have acquired two original small plates from China (one from Ruyang Forestry Railway, gifted to us by John Athersuch, and one acquired by myself from Rongshan Local Railway). We have made replicas of these and also of the large plates. These replicas are available from our
merchandise store
.
Non-Standard Forestry Railway Logos
Some railways seem to have produced other variants of the Forestry logo plate. Xilin Mining Railway had slightly smaller cabside plates on some locos. Dunhua and Dashitou Forestry Railways had brassy plates with a proportionally larger space around the rail in the centre of the plate. These existed in large variants for smokebox and tender, and a tiny variant to fit below the cabside window of their unusual-shaped cabs.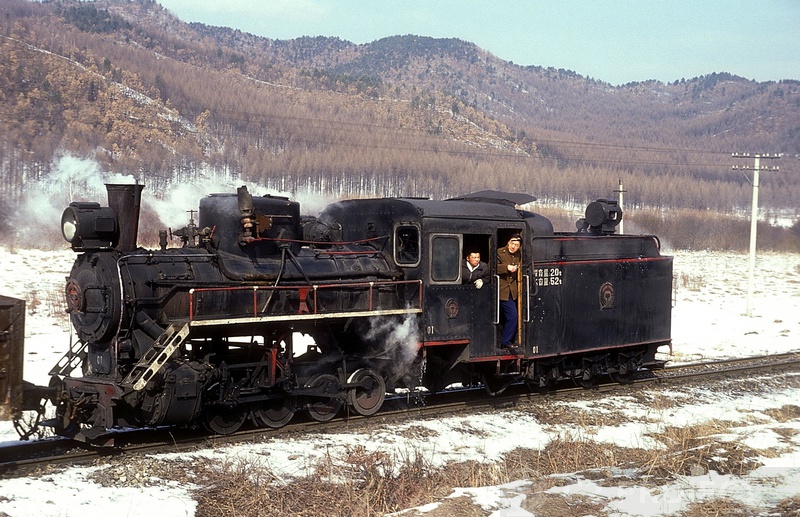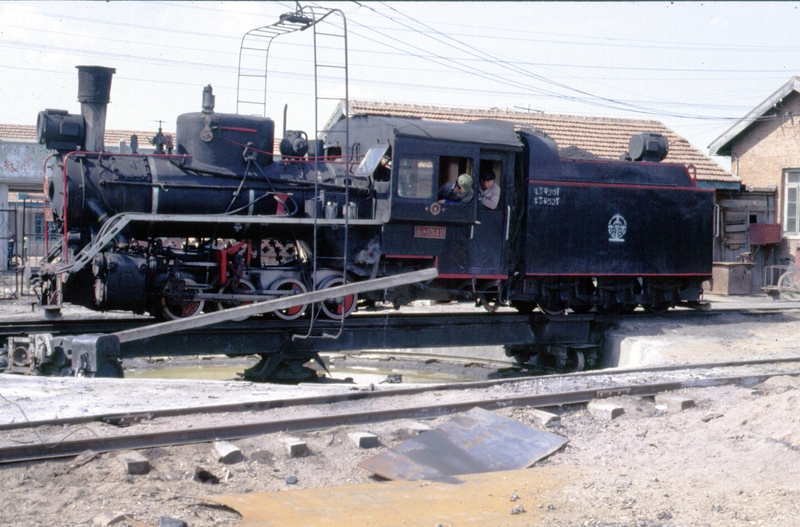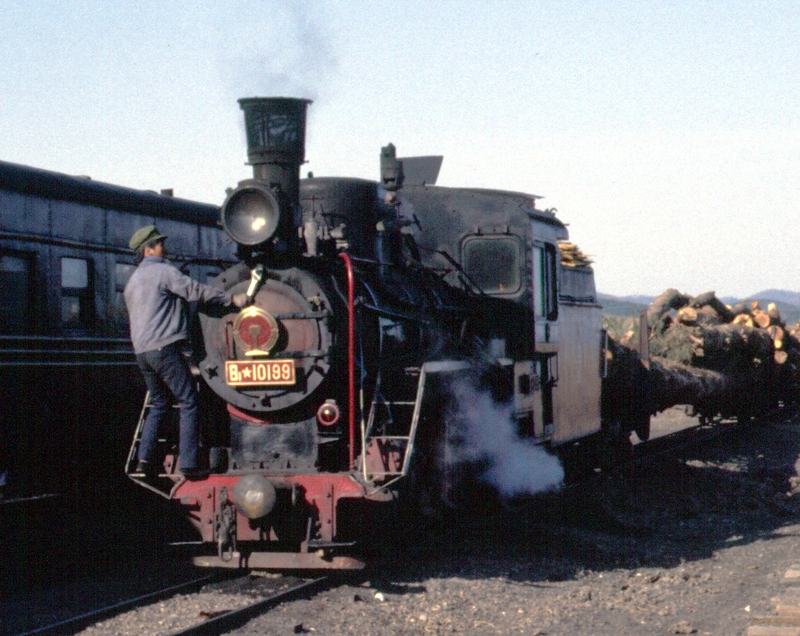 On some railways, the 28-tonne locos were known as the HongQi (Red Flag). The narrow-gauge equivalent of class-names like QJ (QianJin = 'Forward!'), this was of course a classic communist image and there was also a magazine and a make of car with the same name. Some locos carried a neat cast plate on the smokebox, consisting of a stylised red flag with the Mandarin and Pinyin characters for HongQi.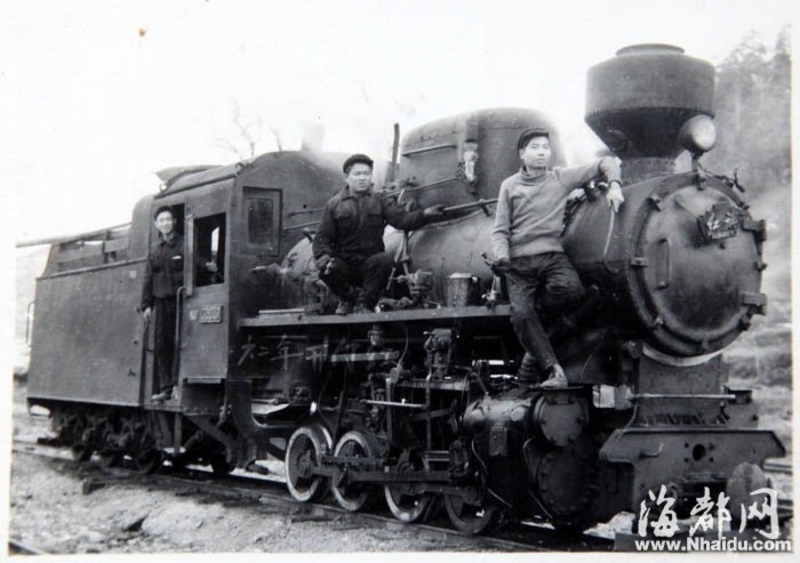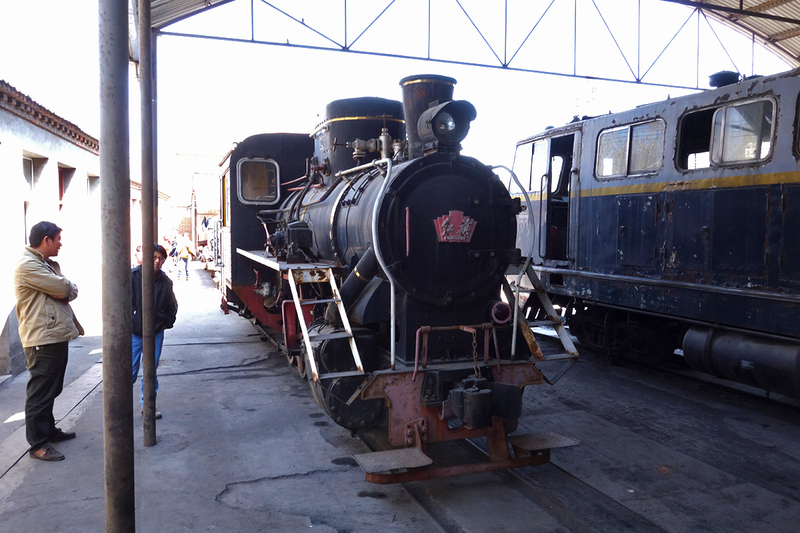 The Chinese Communist Youth League 'adopted' a loco at some of the forestry lines, and these were usually adorned with a distinctive brass plate. Similar in size and shape to a normal forestry logo plate and usually mounted in place of it, it's often only noticeable with a closer look at a photo. These plates were carried by one loco at each of the Weihe, Zhanhe, Yabuli and Sanchazi forestry systems, and probably on some other railways.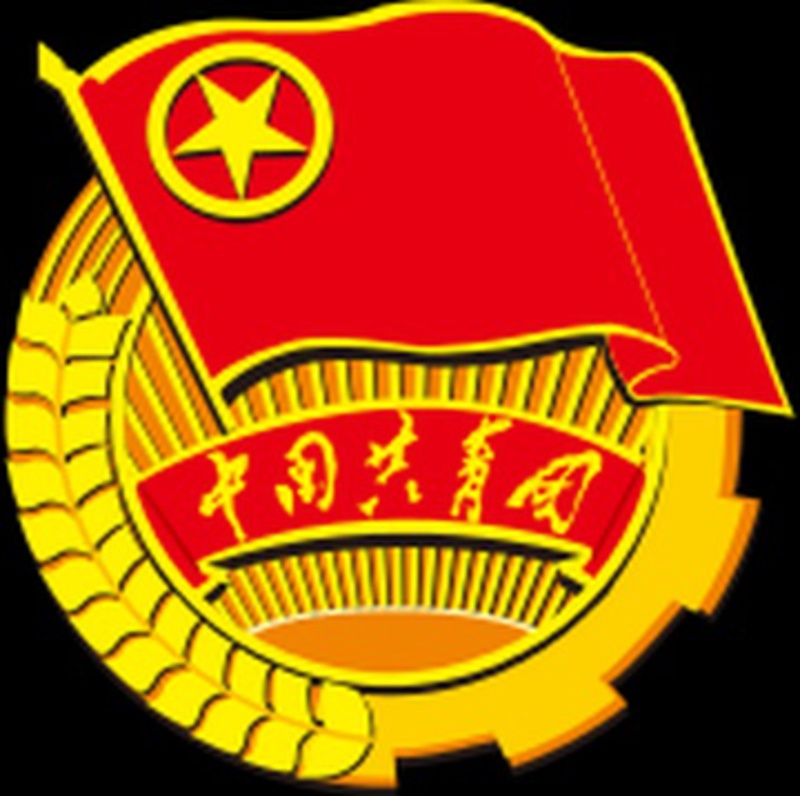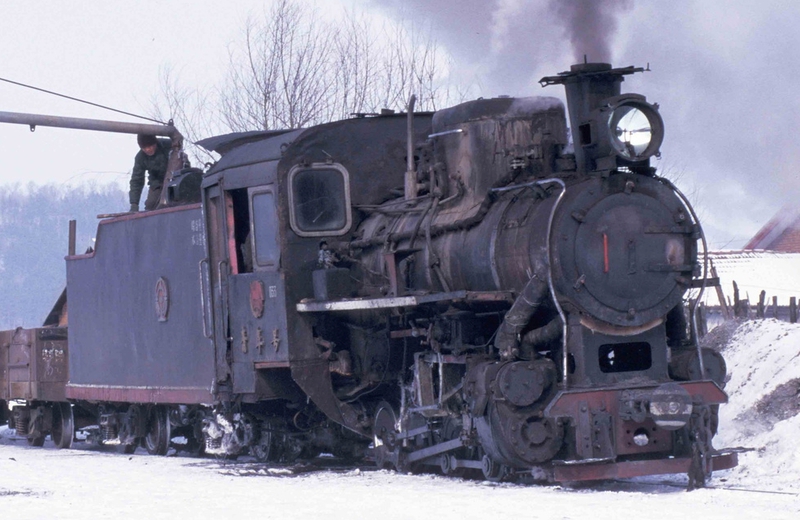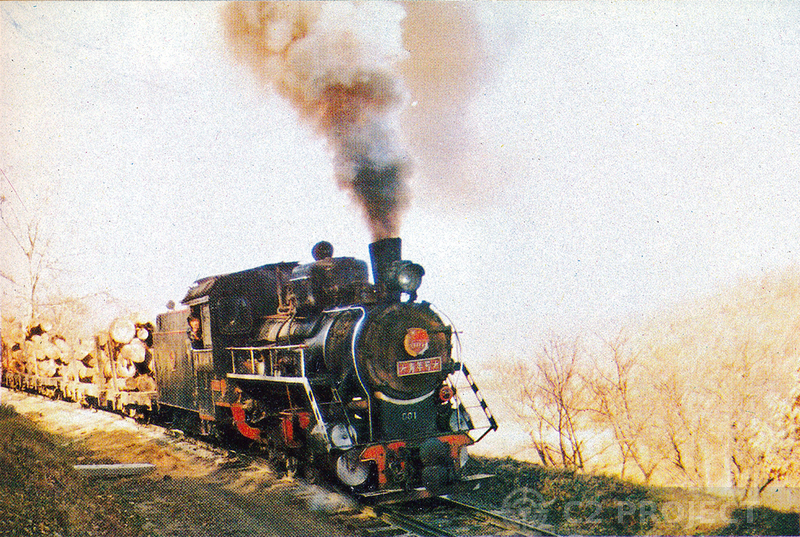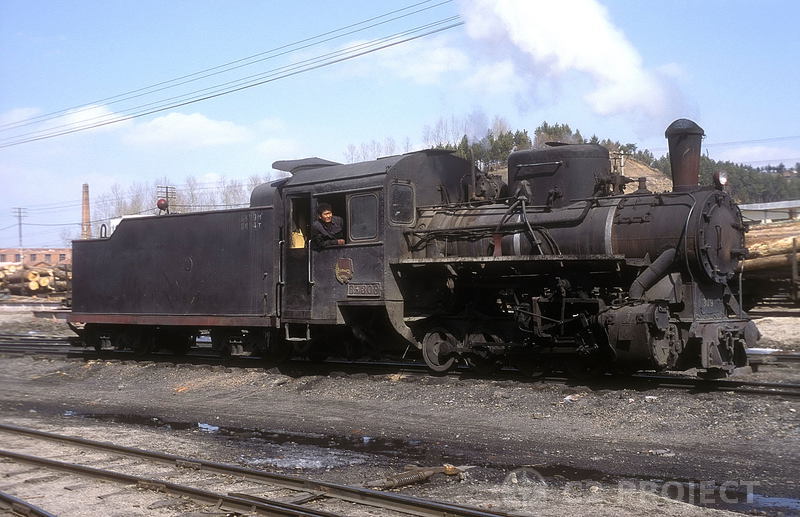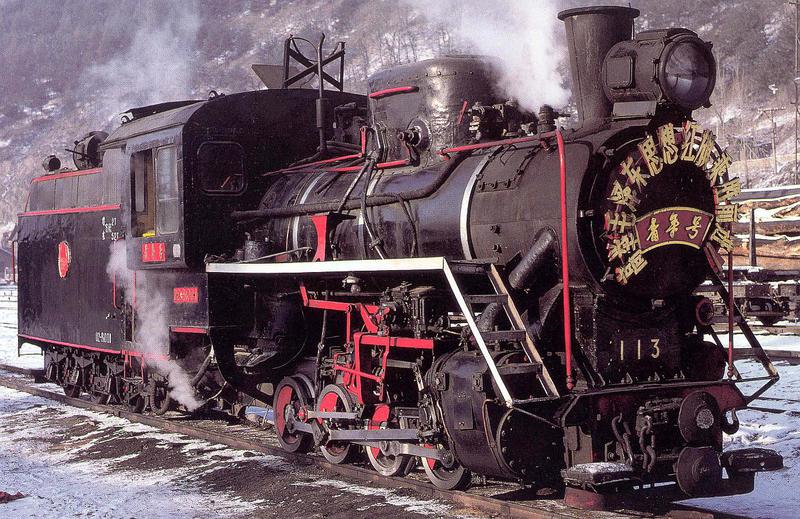 Elaborate Smokebox Decorations
That last photo at Sanchazi brings us neatly on to the next topic, locos with elaborate decorations on the smokebox. Often featuring communist symbols or slogans, these were also seen on main line steam locos. Here are a selection on C2s working on forestry railways. The last photo really captures the essence of what a C2 was designed to do - haul long trains of logs in temperatures down to -40C.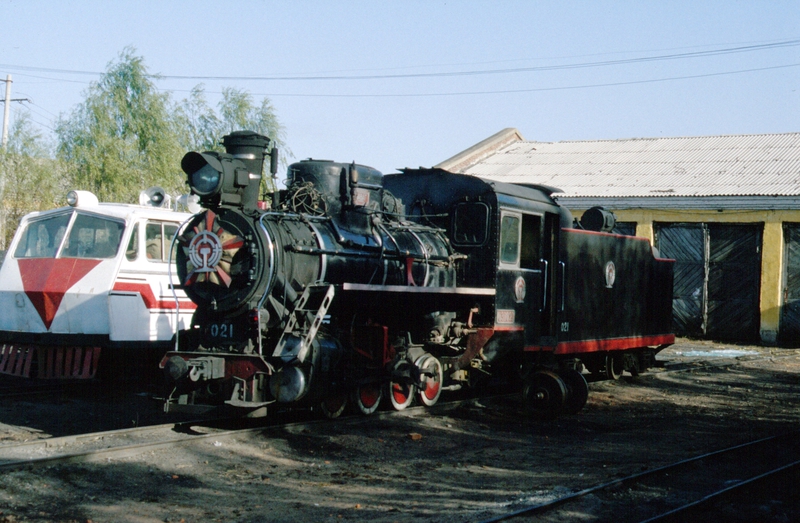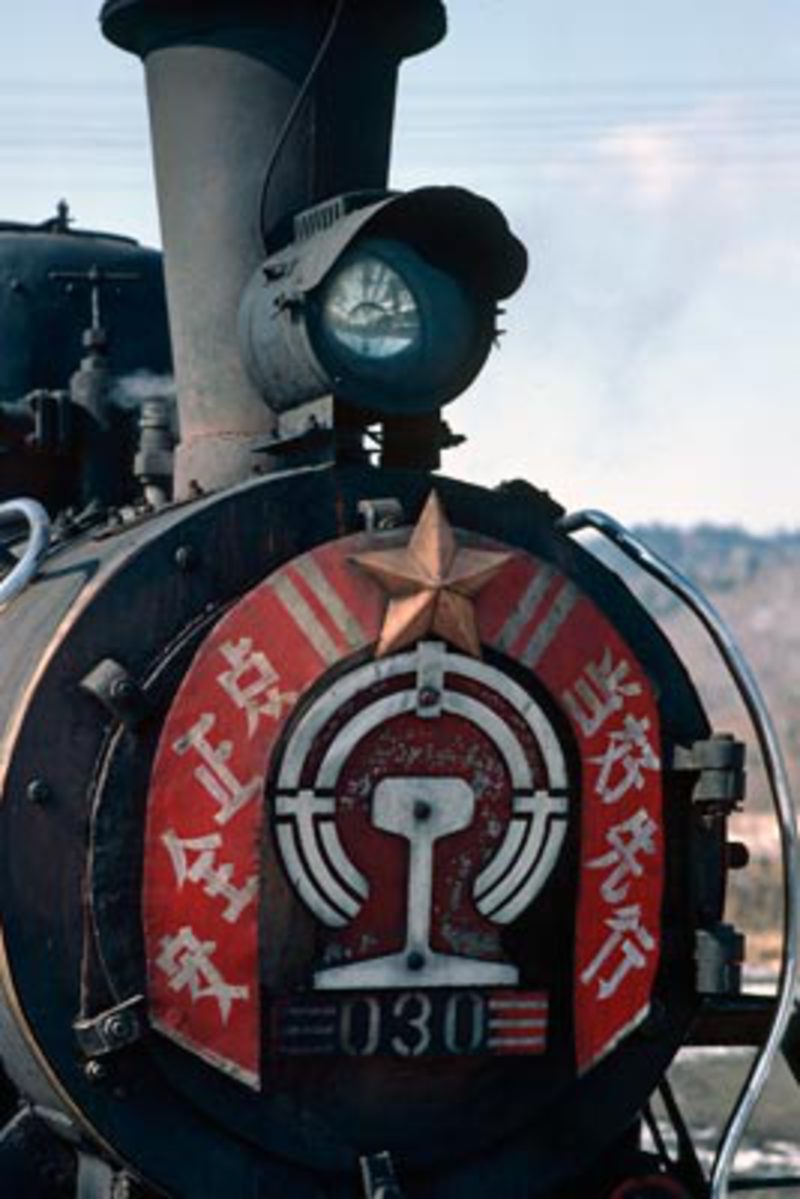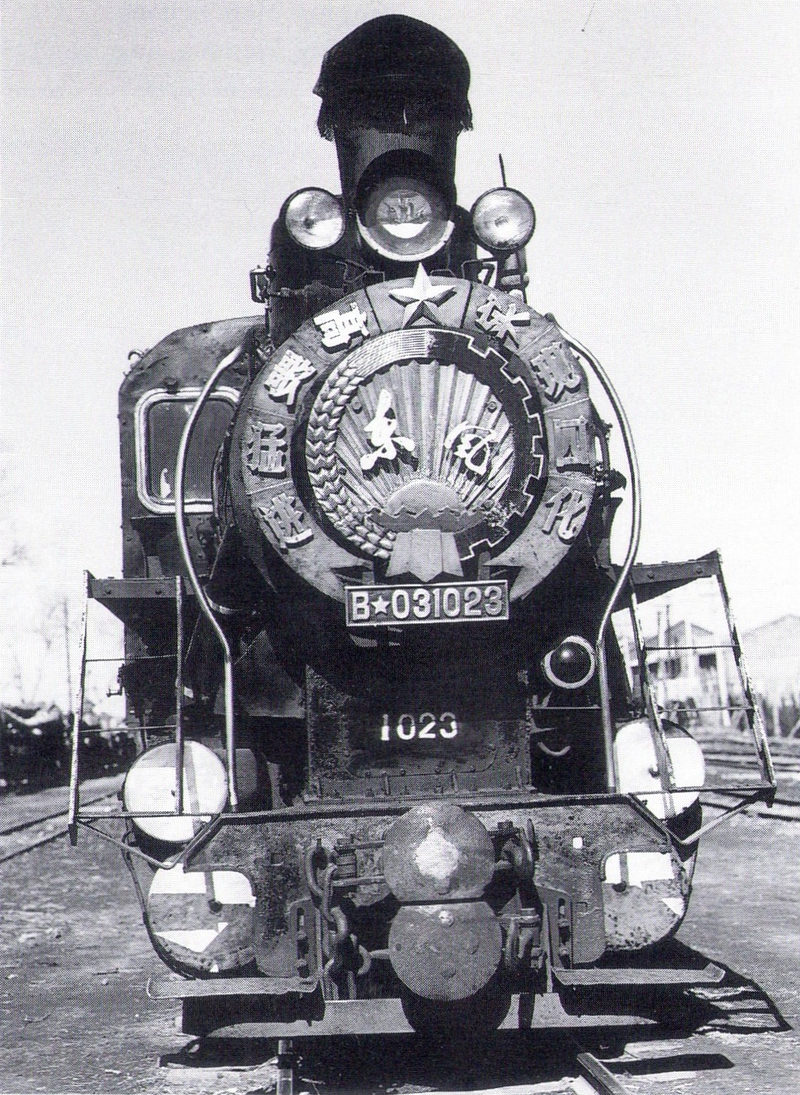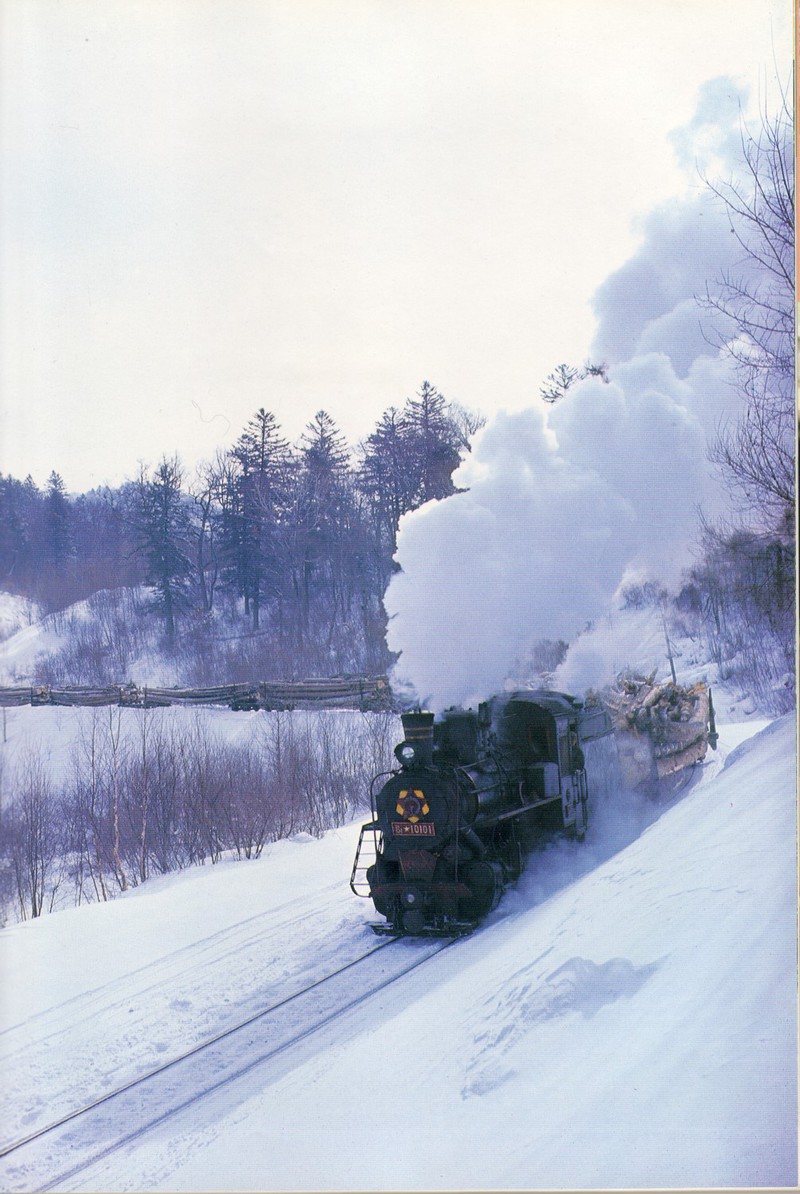 Most C2s had boiler bands; these were functional to retain the cladding but often also decorative. Our loco had a fairly standard arrangement of three broad aluminium bands, which had once been painted white under the grime. Other locos had these upgraded to shiny chrome, stainless steel or brass, or painted in other contrasting colours. Some C2s had decorative rings around the chimney and/or dome. One, two or three rings might be applied, and they were commonly chrome or painted yellow. At least three of the photos further up this page show chimney or dome rings but the most generous application I've seen is in the photo below.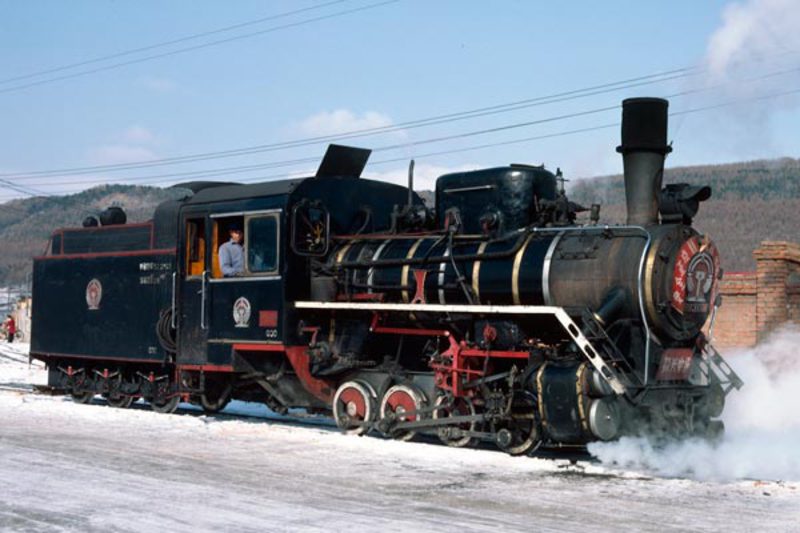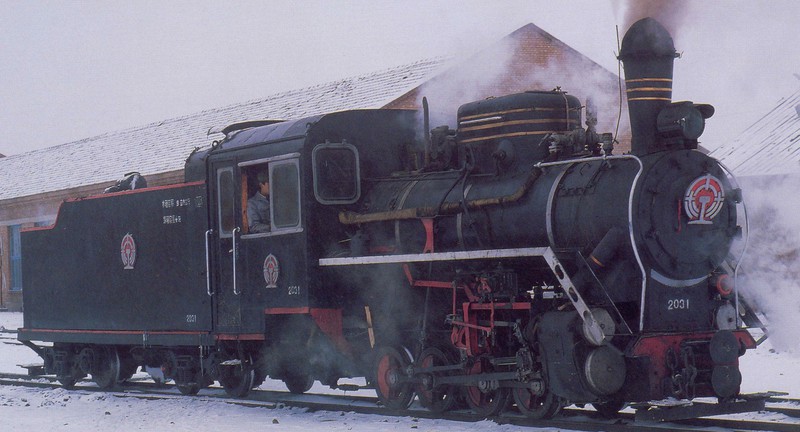 The livery applied to C2s in China was remarkably consistent across the country and their lifetime; only in recent years has there been any significant variation to please the tourist market. The standard livery is predominantly black, with red wheels and trim. The running board is picked out in white, as are the wheel tyres unless they are polished steel. Other details might be accented, usually in yellow or silver. Blue was a common accent colour on Chinese main-line steam, but rare on C2s.
One livery variation which appeared on several lines was to continue the white running-board stripe along the waist of the cabside and tender. Ganzhou Forestry Railway painted all their locos like this, while Ruyang, Tieli, Chaihe, DongFangHong, and Langxiang Forestry Railways had one or more locos with a waist-stripe. This stripe ran across the normal position of the Forestry logo plates so these features were not normally combined unless the Forestry plates were moved to suit. If you look very closely at the tender of that filthy Huangjinggou Coal Railway loco at the top of the page, you'll see that's got a waist-line too!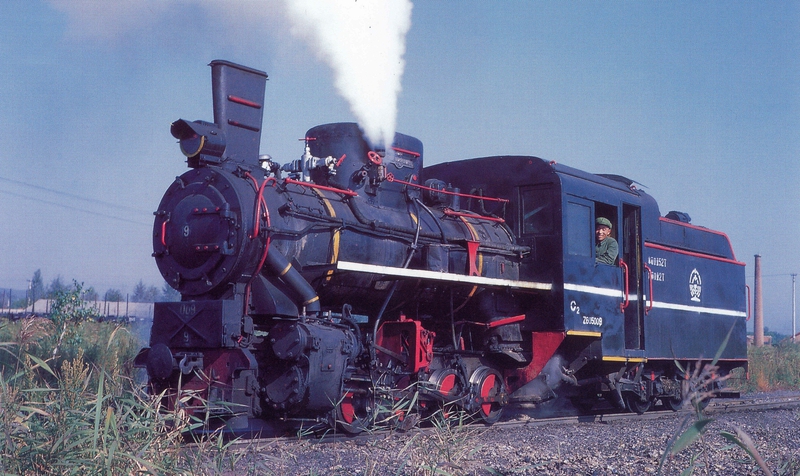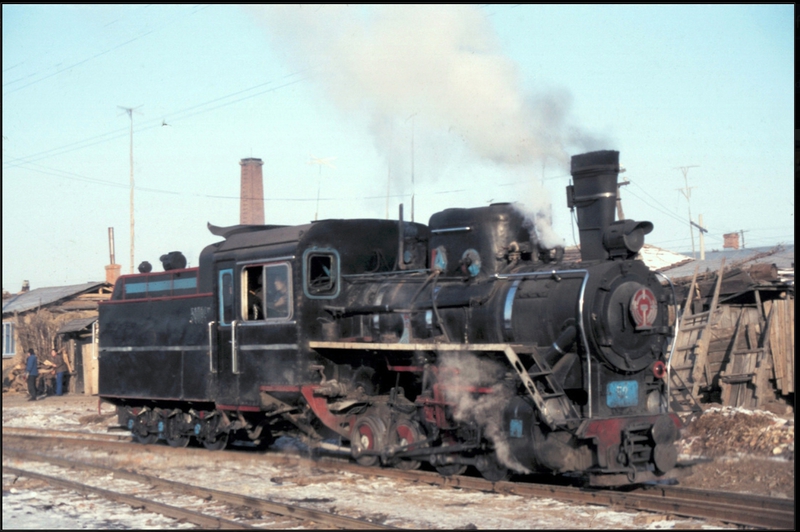 Some C2s gained other, smaller decorations. A common feature (especially in the early years) was a 5-pointed star, which appears in several photos further up this page. Small cast plates with Mandarin characters were also applied to some locos. I'm not addressing worksplates on this page; that's another broad subject we'll get to eventually.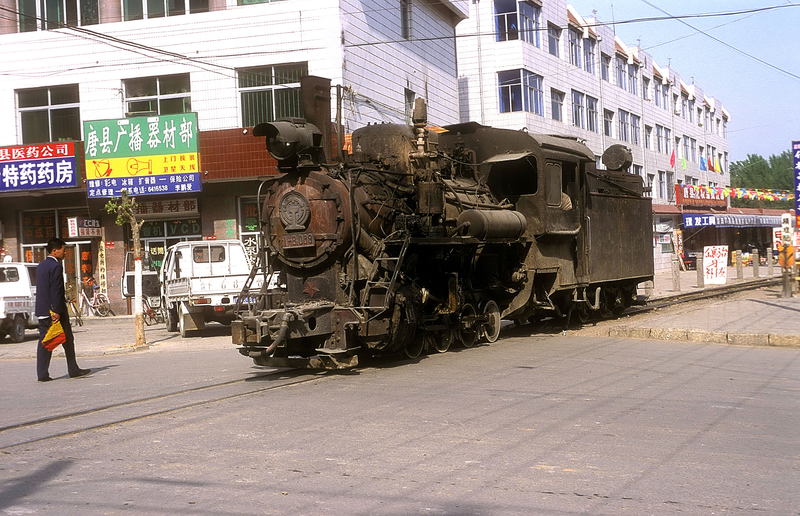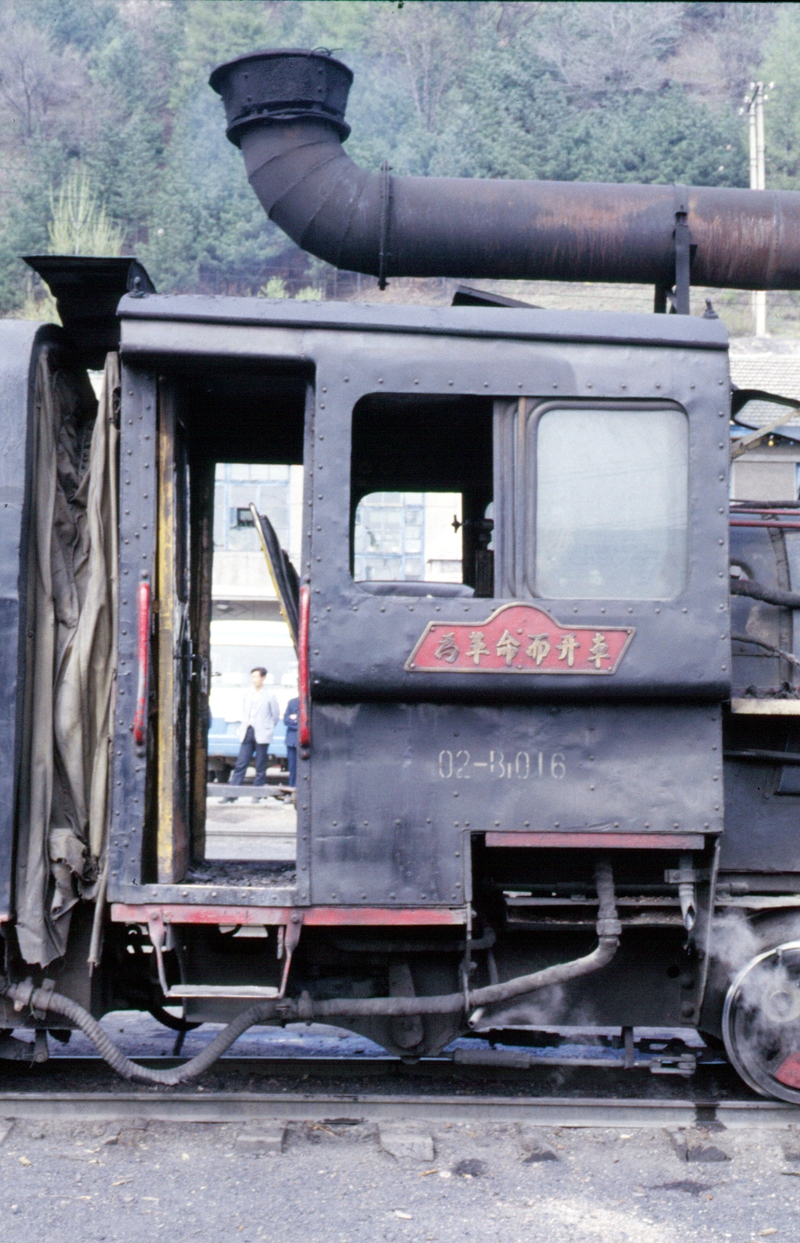 Of course, the craftsmen at some of the Chinese narrow-gauge railways just couldn't help themselves. Not for them, a discreet cast plate or star. No, they had to go a step further. Or maybe a 'great leap forward' further. Here are a two of the more extreme examples of C2 decorations. Perhaps they were trying to out-do the Russians, who fitted two of their C2-predecessors with full streamlining...