Some photographs have recently come to light which have got us rather excited. To explain, let's start at the Dahuichang Limestone Railway near Beijing. This was the railway we purchased our loco #4 from, and the earliest photos we have of it there date from 1997. We had assumed that our loco had spent all its working life there until we purchased it, although we knew it had been sent away for overhaul at least once.
Our C2 has a long frame and other features that are unique to the final batch of C2s built at Harbin Forest Machinery Factory in the 1975-1988 period. 59 C2s were built in this period, representing just 6% of the total fleet of 28t locos in China. Most of these 59 locos were built with a long, wide cab in the modern forestry style, as latterly carried by our loco. The same type of cab was retro-fitted to many older locos but these can be distinguished by a variety of detail differences in the frame, cylinders and boiler.
There were five 28t locos at Dahuichang in the late 1990s. Of those, the loco details show that two were from Shijiazhuang and three were from the final batch of C2s built at Harbin in the 1975-1988 period. When we bought our loco, Dahuichang had logbooks for three Harbin locos: 208, 209 and 216. We know that Dahuichang #2 was Harbin 216 of 1986, because it still carried its worksplate into the 1990s. That loco had a standard wide cab.
In 1997, the other two Harbin C2s at Dahuichang (including our #4) had very similar features and both had a very rare long narrow cab type which was only carried by a handful of locos. We think it is likely that these two narrow-cab locos were the sisters 208 and 209 (though we are not certain which was which).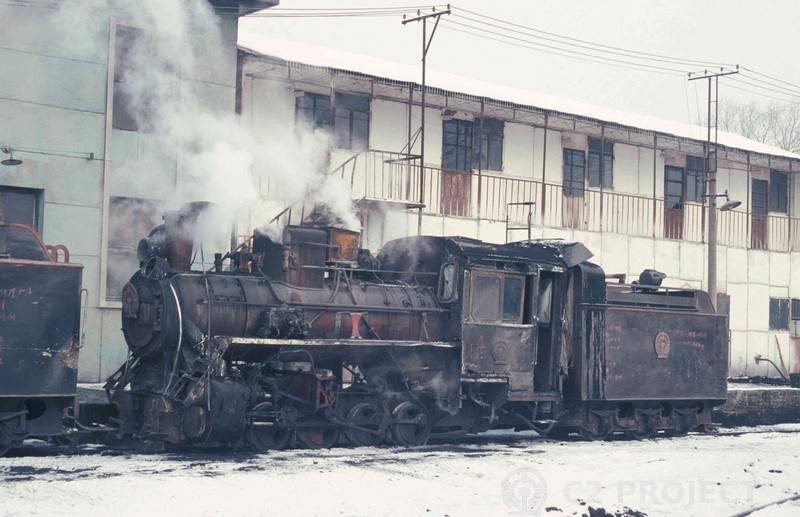 We've been fairly sure of that for the past year or so, and had assumed that the three Harbin-built locos had been delivered new to Dahuichang in the 1980s. However, we have been puzzled why 01 and #4 had non-standard narrow cabs when the standard wide cab was fitted to the other locos at Dahuichang. Paul has personally seen Harbin 207, 210 and 211 working in China and they were all built with the standard wide cabs as were all the other locos built in the 1975-1988 period that we have photos of. So Harbin 208 and 209 weren't part of a larger batch with non-standard cabs; it appears to be just the pair of them with narrow cabs.
Now let us travel back in time and 900 miles to the north-east...
Heihe is a town in the far north of Heilongjiang Province. It is on the south bank of the Amur River which forms the border with Russia; on the north bank is the town of Blagoveshchensk.
The 303km route from Beian to the border at Heihe was first surveyed for a standard gauge railway by the Japanese in 1933, when they occupied the north-east of China ('Manchuria') and this line opened in 1935.
After WWII ended, this area of China was occupied by the Russians in 1945. Recognising that it would likely return to Chinese control eventually, their policy was to take anything of value as quickly as possible. In winter they built a temporary rail link across the frozen river at Heihe and took the locos and rolling stock, some of the steel structures, rails, signalling equipment and numerous other items.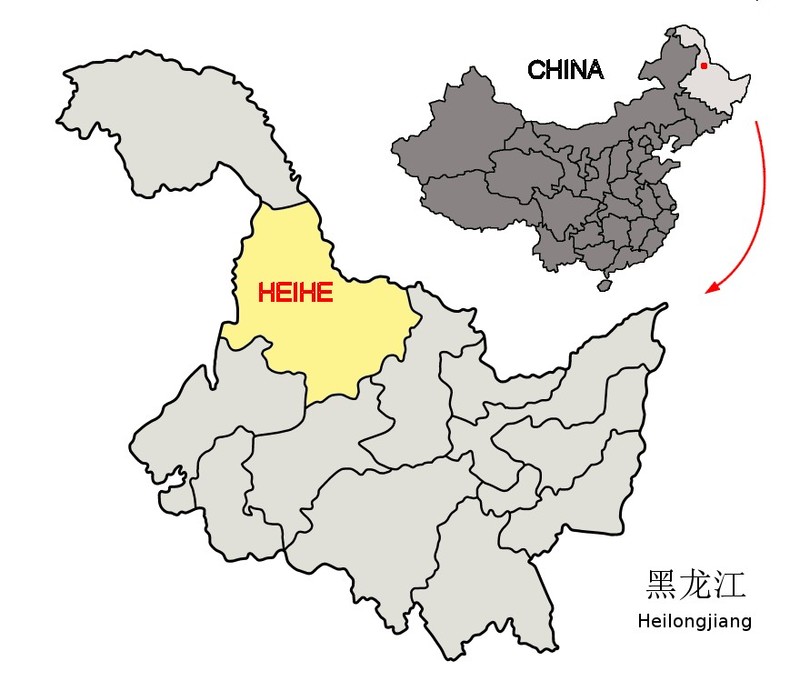 When the Chinese regained control, the remnants of the railway were recovered in 1949 and re-used elsewhere on the Chinese rail network. However, this left the town of Heihe especially isolated, and with a shortage of heating fuel. There were some coal mines near Xigangzi on the route of the abandoned railway. In 1951 a 762mm gauge line was built on the northern end of the standard-gauge trackbed. This was 57km long and connected Heihe to Xigangzi. From 1951 to 1958 it was horse-drawn but steam locos were introduced in 1959 and supplemented by some small diesels in 1973. The early steam locos included at least two 28t locos built at Shijiazhuang; there were probably more. The line was predominantly a coal-hauler but appears to have also carried passengers in carriages converted from bogie wagons.
From 1963 to 1965, the southern part of the abandoned line from Beian to Longzhen was reconstructed to standard gauge as part of the Chinese national network. There remained a gap of nearly 200km between Longzhen and Xigangzi.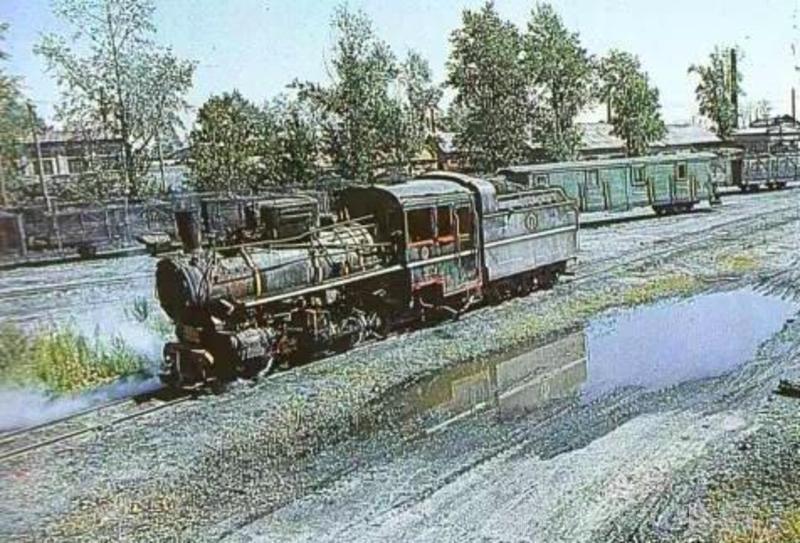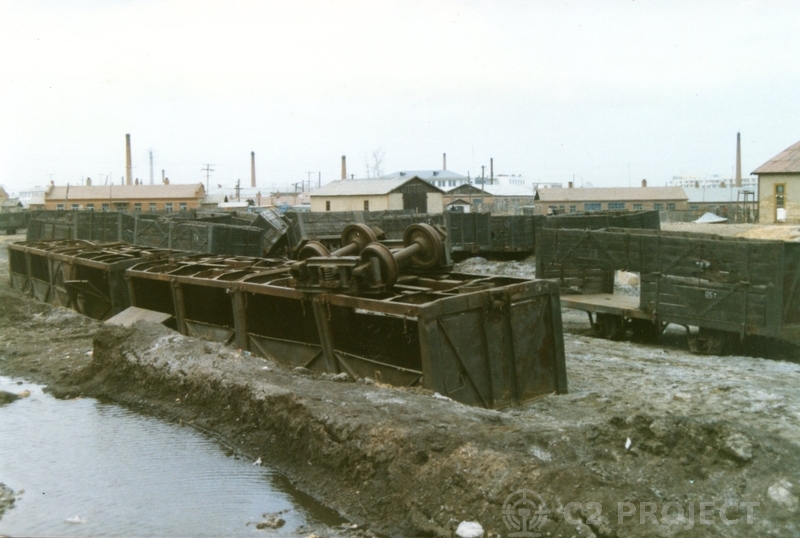 In the 1980s, a standard gauge local railway from Longzhen through to Heihe was planned. This would connect Heihe to the main national network and replace the narrow-gauge section. After much planning, the narrow-gauge section was closed in 1986 and reconstructed to standard gauge in the 1986-1989 period. That line is still in existence and operating today. Initially, the narrow-gauge locos were parked up in their shed at Heihe and were photographed there by Nick Lera in March 1989. He also photographed a scene of derelict wagons in the yard outside.
Nick observed four 28t locos numbered 01 to 04; two on each track of a two-road engine shed. Nick has very kindly shared these images with us recently as part of our C2 photo archive project. As the only quality images of the 28t locos on this railway, they are interesting in their own right. However, it turns out they are extremely relevant to our own story!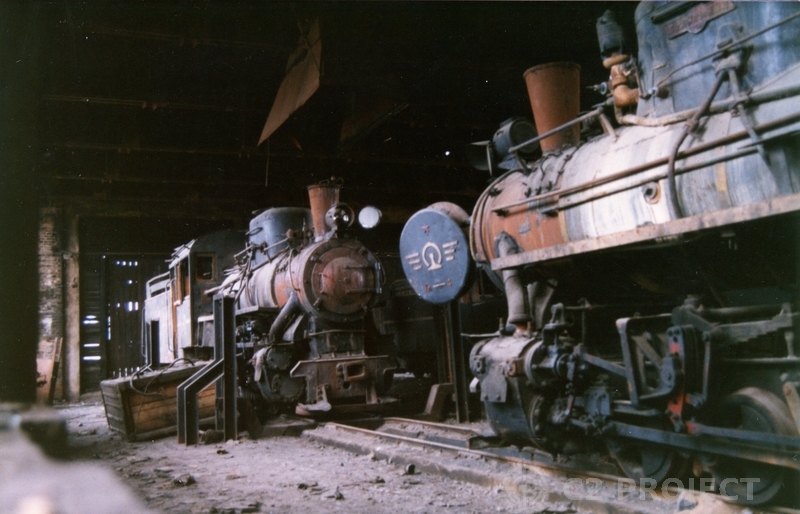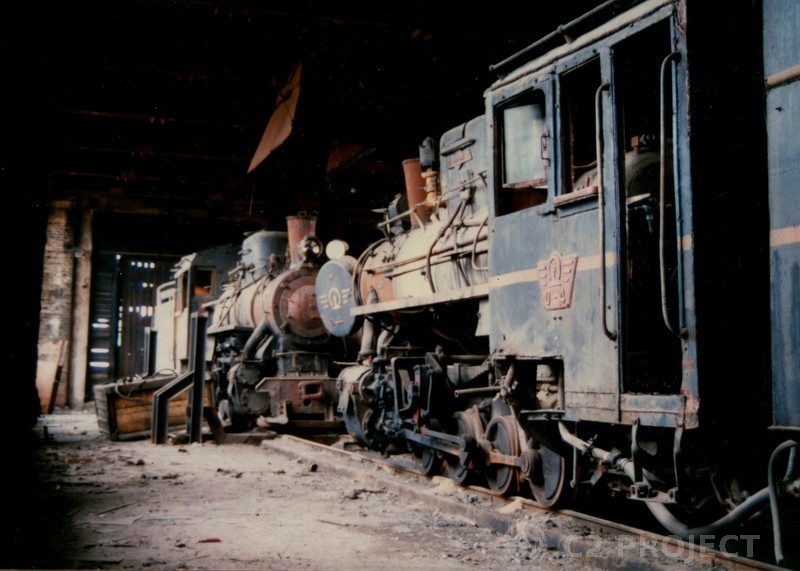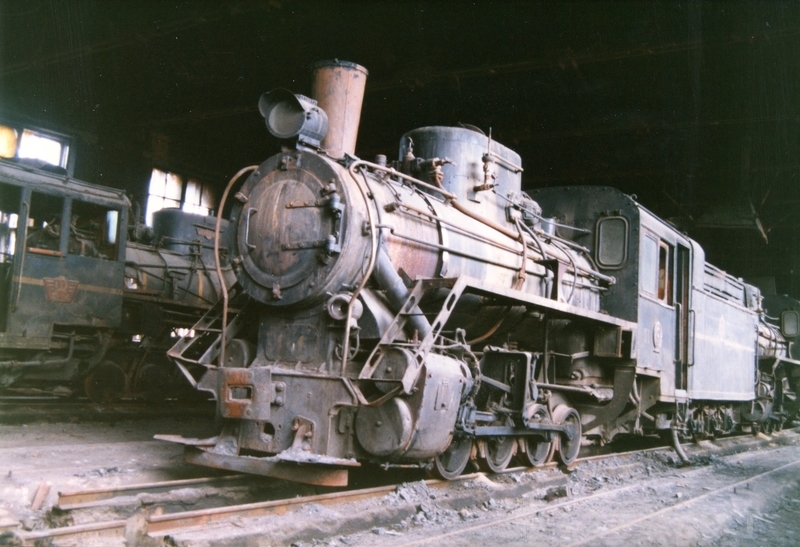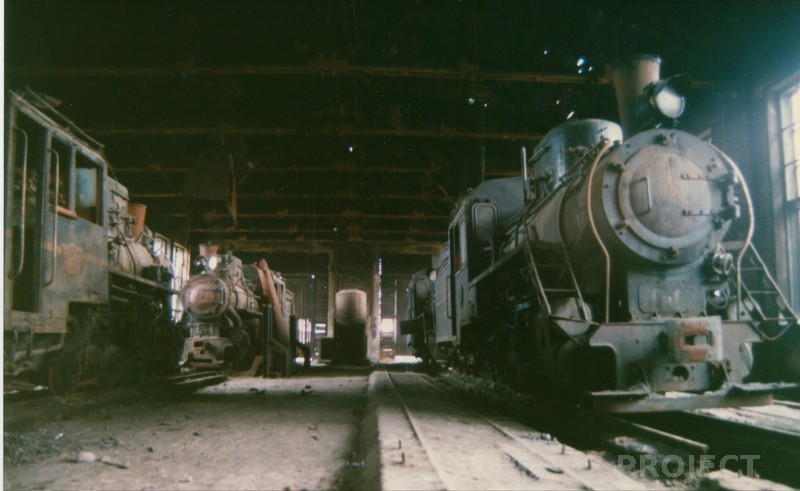 All the locos that Nick photographed at Heihe have long, narrow cabs, although there are two different styles on the Shijiazhuang and Harbin-built examples. Perhaps there was a width restriction on the line at Heihe which required the newer Harbin-built locos to be supplied with a non-standard narrow cab? This restriction could have been something like a loading facility at one of the coal mines.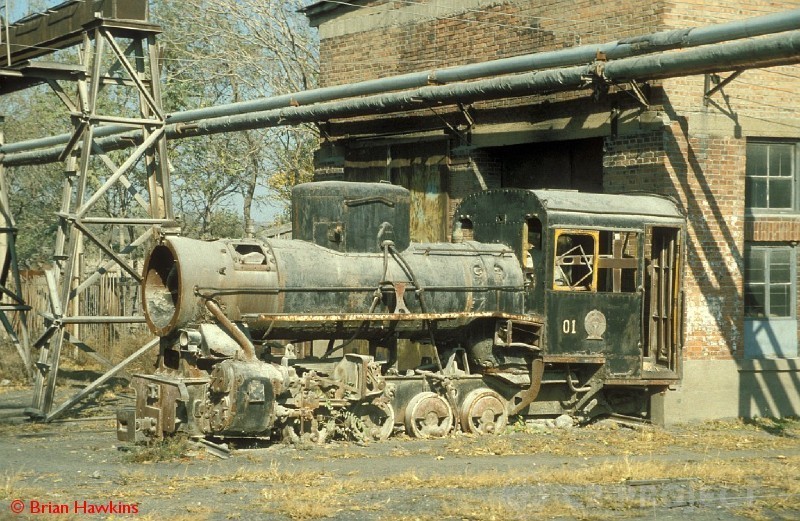 Why all this focus on a couple of locos which worked hundreds of miles away from Dahuichang? Well, the nearer C2 in the photograph above is strikingly similar to the loco numbered 01 that was dumped outside the shed at Dahuichang. Looking more closely, there are many details on the hulk that exactly match the C2 at Heihe:
- very rare narrow cab in the forestry style
- unusual box under the running plate forward of the cab
- distinctive non-standard coupler face (though it has been moved down to a lower position leaving the upper mount in place)
- two small circles of weld on the bufferbeam flanking the coupler
- style and position of cabside number 01 is identical
- cladding bulge below the whistle fitting
When enthusiasts first visited Dahuichang in 1997, the hulk numbered 01 apparently still had the remains of some transit instructions on the side, which had previously been a bit of a mystery to us. These instructions showed that it had been delivered from Beian (the mainline railhead for Heihe). The mystery is solved and this final piece of evidence gives us total confidence that the 01 photographed by Nick Lera at Heihe in 1989 is indeed the same loco as the 01 hulk at Dahuichang photographed in the 1997-2000 period.
The evidence of the transit instruction and the matching style and position of the cabside number suggest that 01 was not repainted after leaving Heihe, and therefore probably not overhauled either. It seems to have just been used as a source of spares. However, Heihe 01's tender seems to have been attached to Dahuichang #2:
The tenders attached to 01 at Heihe and latterly to #2 at Dahuichang (right) are also very similar:
- Extra thin strips between the coal rails
- Open 'triangle' at the back of the coal rails
- No boss for mounting a forestry plate (and no plate)
- Heavy reinforcing strip along the bottom
- Distinctive bend upwards at the rear
Tender swapping at Dahuichang seems to have occurred several times judging by photographic evidence.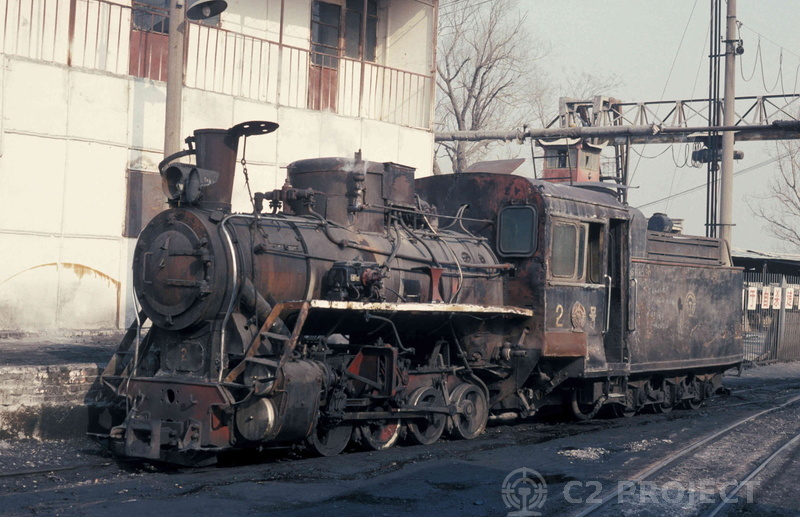 Now, based on Nick's photos we're confident that Dahuichang 01 was previously at Heihe. And parked in the shed behind it at Heihe in 1989 was another identical loco with the same rare long narrow cab in the forestry style.
By the late 1990s, we know that Dahuichang also had another loco with this rare cab type, and that was our #4. We think that 01 and 4 had consecutive Harbin works numbers and were thus sister locomotives. So it seems highly likely that the loco lurking in the back corner of Nick's photos at Heihe is ours. An amazing find!
So our best guess of our loco's history is now as follows:
Harbin Forestry Machinery Factory built the pair of locos 208 and 209 in 1983, for Heihe Local Railway in Heilongjiang Province. Some restriction on the railway at Heihe meant that they were built with a narrow variant of the standard forestry style cab. They would only have had a working life of 3 years at Heihe before the narrow-gauge railway was closed for regauging, and then remained in the shed at Heihe for a few years during which time they were photographed by Nick. Considering that the locos were withdrawn after only 3 years use, their appearance in Nick's photo is probably very similar to their as-built condition.
At some stage between March 1989 and 1997 they were both sold to Dahuichang. Considering the state of 01 by 1997 it's likely to be towards the start of that period. 01's coupler was lowered to the Dahuichang height but it was not overhauled, renumbered or repainted and probably saw little or no use. 01's tender was attached to Dahuichang #2. The other loco from Heihe (which became our #4) was overhauled and modified with typical Dahuichang features such as the raised sandbox and extra lubricator, and the photos of it in 1997 and early 1998 show this condition. Later in 1998 it was overhauled again at Chaihe Forestry Machinery Factory and further modified with a wide cab and side blowdown valves. This is the condition in which we purchased it.
Paul is currently trying to acquire some more old Chinese books which may contain information on the locos at Heihe and Dahuichang. Hopefully these will give us some more clues and confirm whether that loco hiding in the back of the photos at Heihe is actually ours.
If so, there are definitely some edits needed to the other pages on this website. We'll wait until those books have arrived before re-writing history.