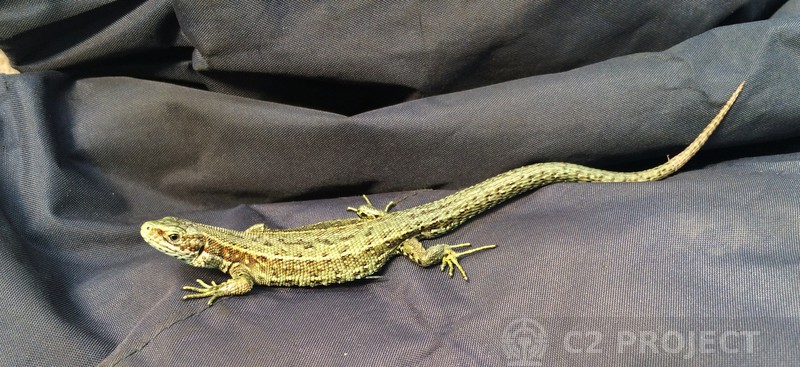 After the excitement of the Hunslet 125 event and the associated movements of our loco and tender frames, our working parties are returning to a more normal schedule. However, we took advantage of the bank holiday weekend for an extended work programme.
Work started on Thursday; Paul was rostered to drive an early-morning train but was free to get started in the C2 shed that afternoon. James had been firing for him, and offered to help on the C2 over the weekend too. Over the past two years we have done a lot of work on brake gear components, so Paul gathered everything together and compared them to the complete parts list. He then identified which parts are already complete and ready to fit, and compiled a list of jobs needed on the other components. He also had time to clean and paint a few brake slack adjuster parts. On Friday morning, Paul was joined by Mike, who tidied up some rough flame-cut edges on the brake gear equalising links.
Recently, Paul has spent a lot of time translating the Chinese maintenance and overhaul manuals for the C2. These include dimensional tolerances for the cylinder bores and alignment. Last month Erle did a preparatory rough measure of the cylinders, which indicated that they have been re-bored at some stage. On Friday, Paul carefully measured the spacing and squareness of the cylinder mounting pads on the loco frames, which are within tolerance.
/
James was set the task of dismantling and cleaning up the rear cylinder covers, which we also wanted to measure.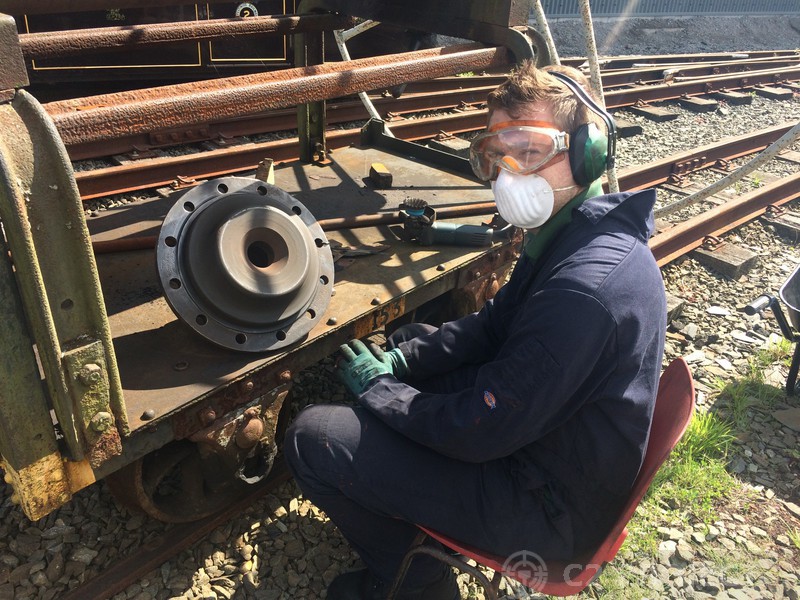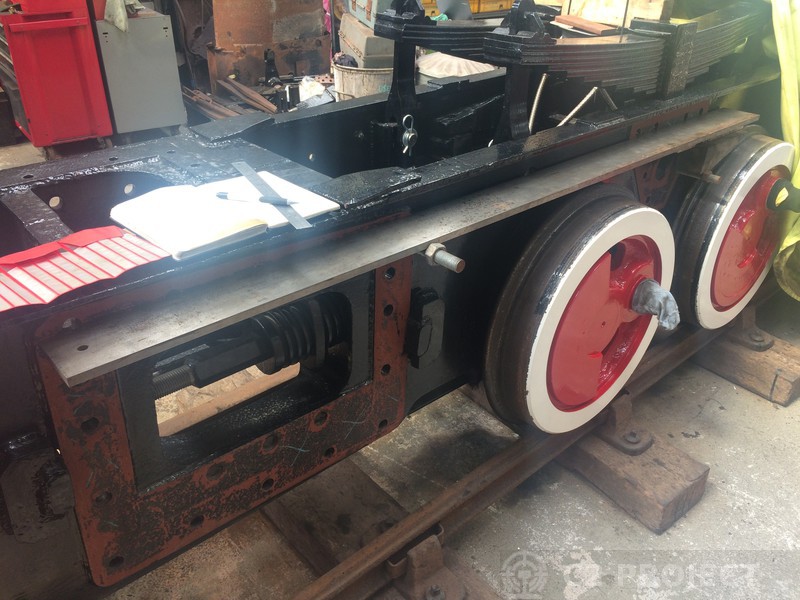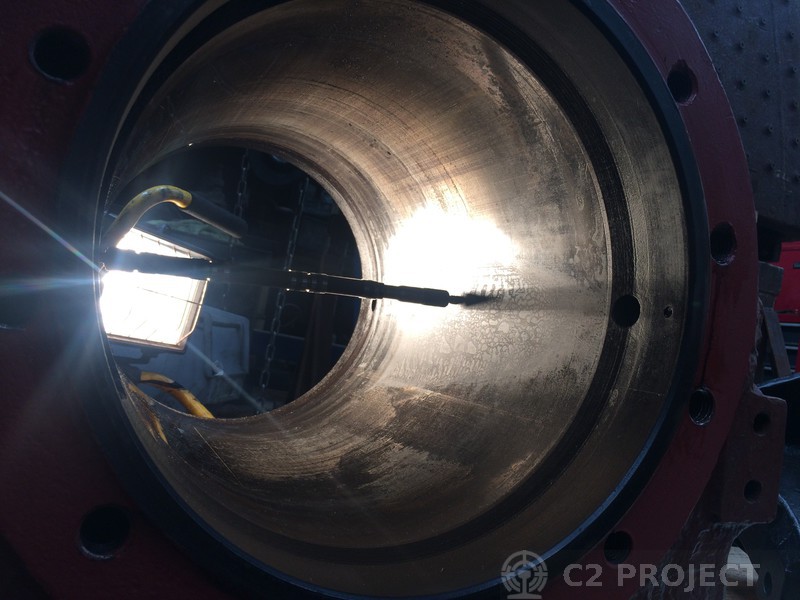 Progress accelerated on Saturday morning with the arrival of Alan, Dave, Erle, and new volunteer Nick. After an induction, Nick and Dave worked together to refurbish two links from the tender brake gear, and make four new ones the same to replace others that were in very poor condition. On the tender handbrake column and trunnion, Erle drilled and tapped holes for grease nipples, gave the components a final clean and then painted them. He then cleaned up and bored out some more links from the tender brake gear.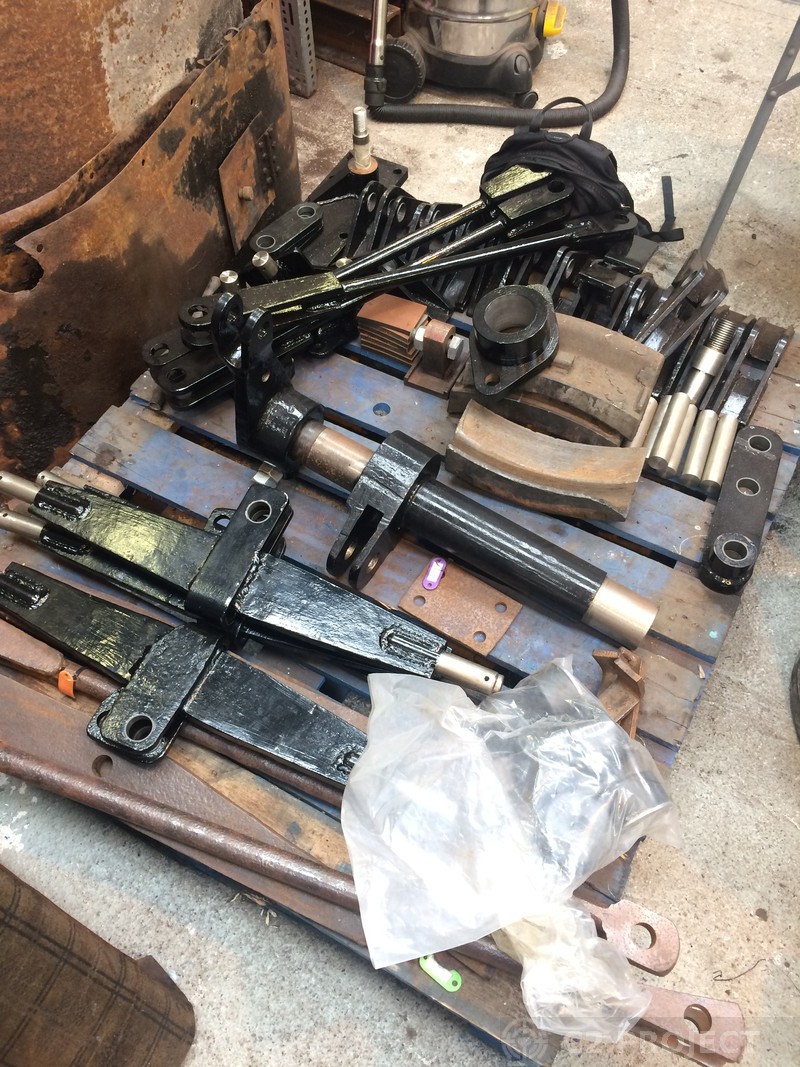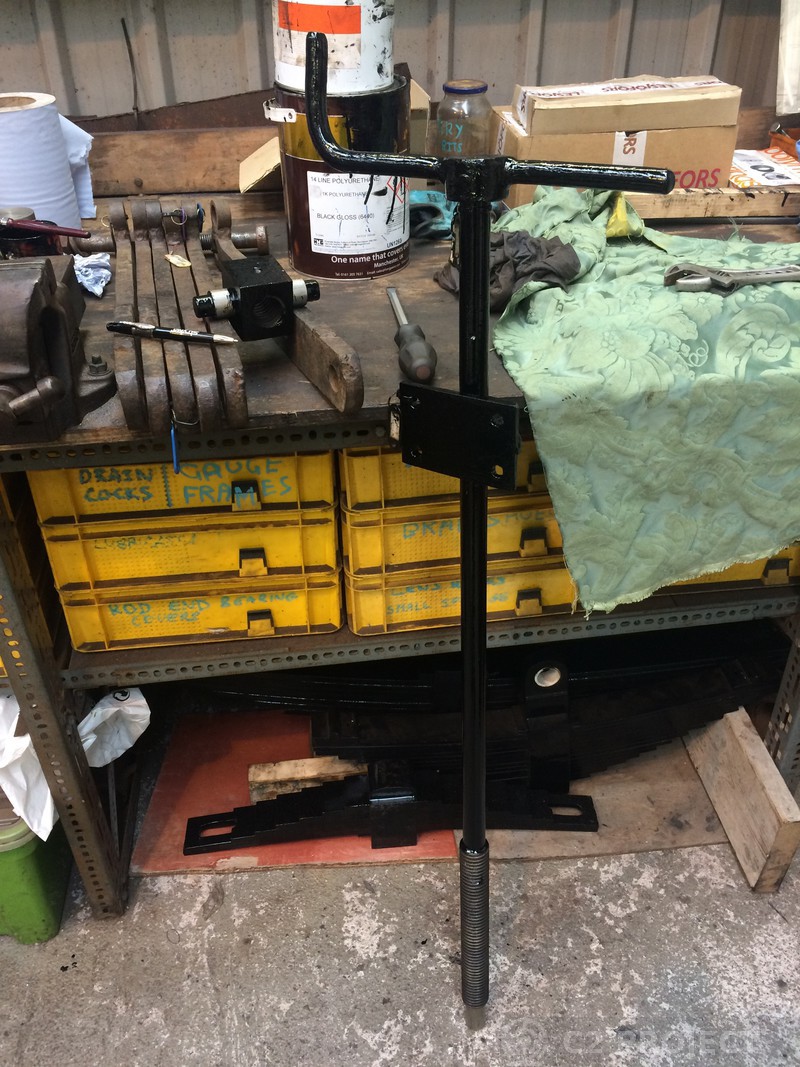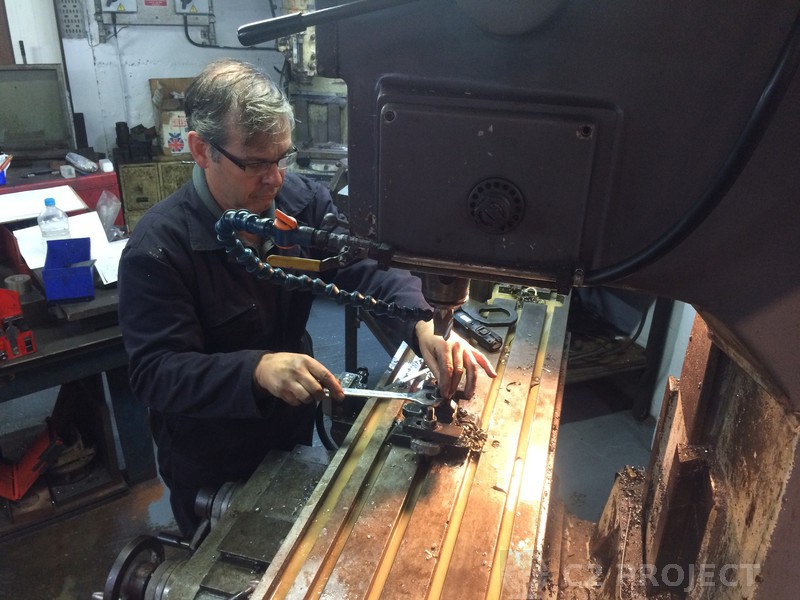 James continued his work on the cylinder covers, helped at times by Paul and Alan who focused mostly on the cylinders themselves. They cleaned up the cylinder bores and took a series of accurate measurements. The bores are actually in very good condition with only a few thou of wear and a good surface finish. Paul also worked out how to measure the distance from the cylinder bore to the mounting face, confirming that these are parallel and within specification.
This is all good: it means we just need to skim the cylinder bores lightly to achieve a perfect bore, and we won't need to fit liners.
A great surprise on Saturday was the appearance of a little creature in our shed. We've had a regular robin in the past, but this was a reptile. It was first spotted on top of the loco frames, and stayed in that general area all day. It's a viviparous lizard, one of the commonest lizards in Europe and the only one found so far north. Given our Chinese theme, we named it 小龙 (Xiao Long; little dragon). It's not an endangered species but apparently they're rarely seen indoors like this. We saw it again on Sunday and on Monday, so perhaps it has taken up residence in a cozy shed that's quiet for most of each month? We've only seen one at a time but it's possible it's not been the same animal each time.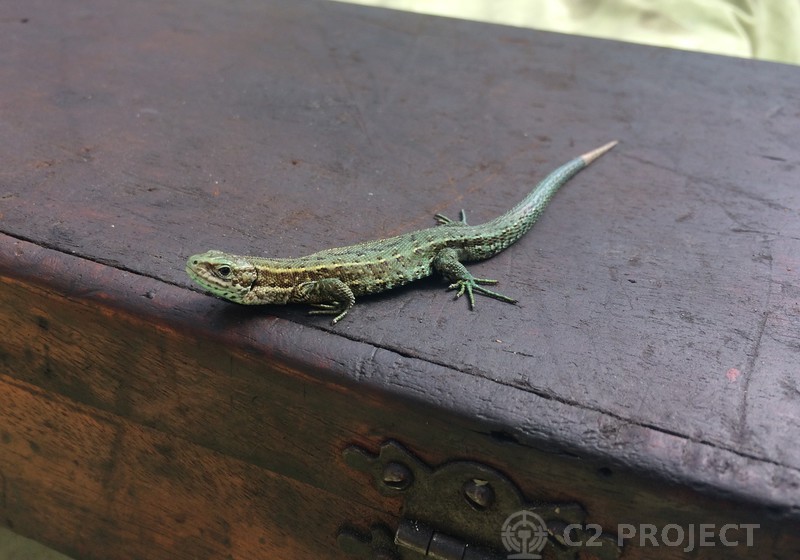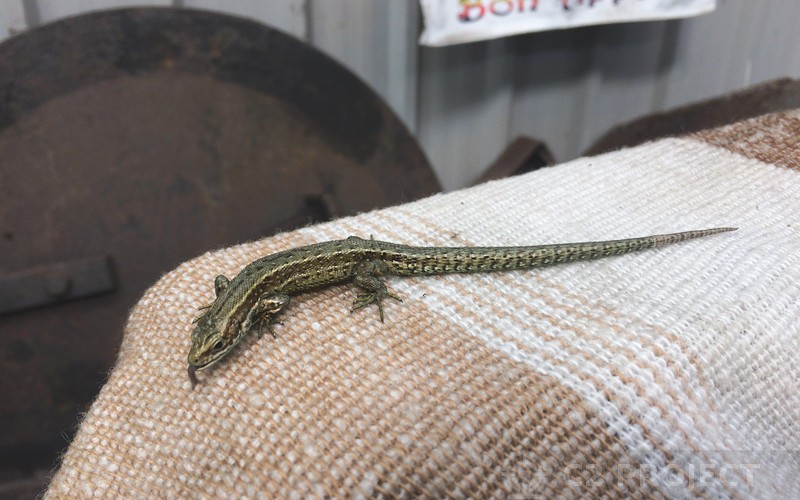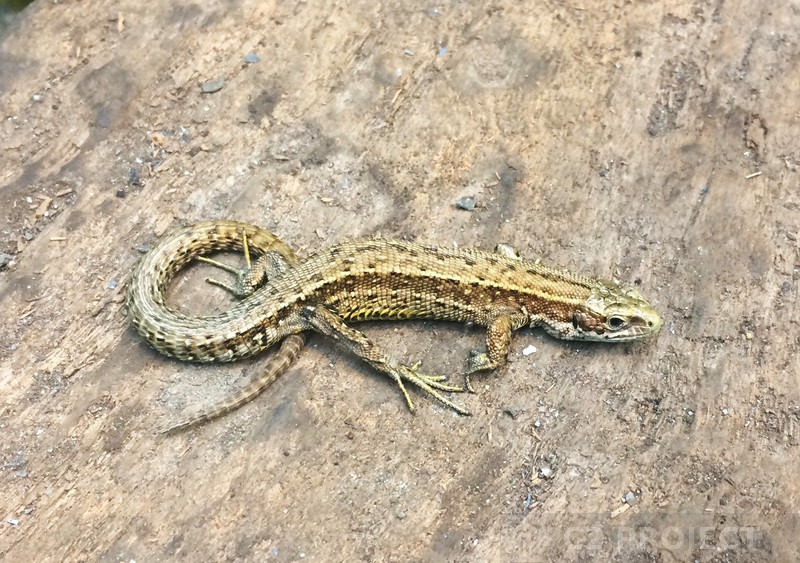 To set the cylinder and slidebar alignment perfectly, it is useful to set up a rod or wire on the cylinder centreline. On Sunday, Alan designed some cross-shaped jigs that would be a close fit in the cylinder entry bores and would provide an accurate datum for the centre of the bore. He spent Sunday and Monday fabricating and machining these. There's a little more work still to do, but they will be very useful when we come to assemble the cylinders and motion.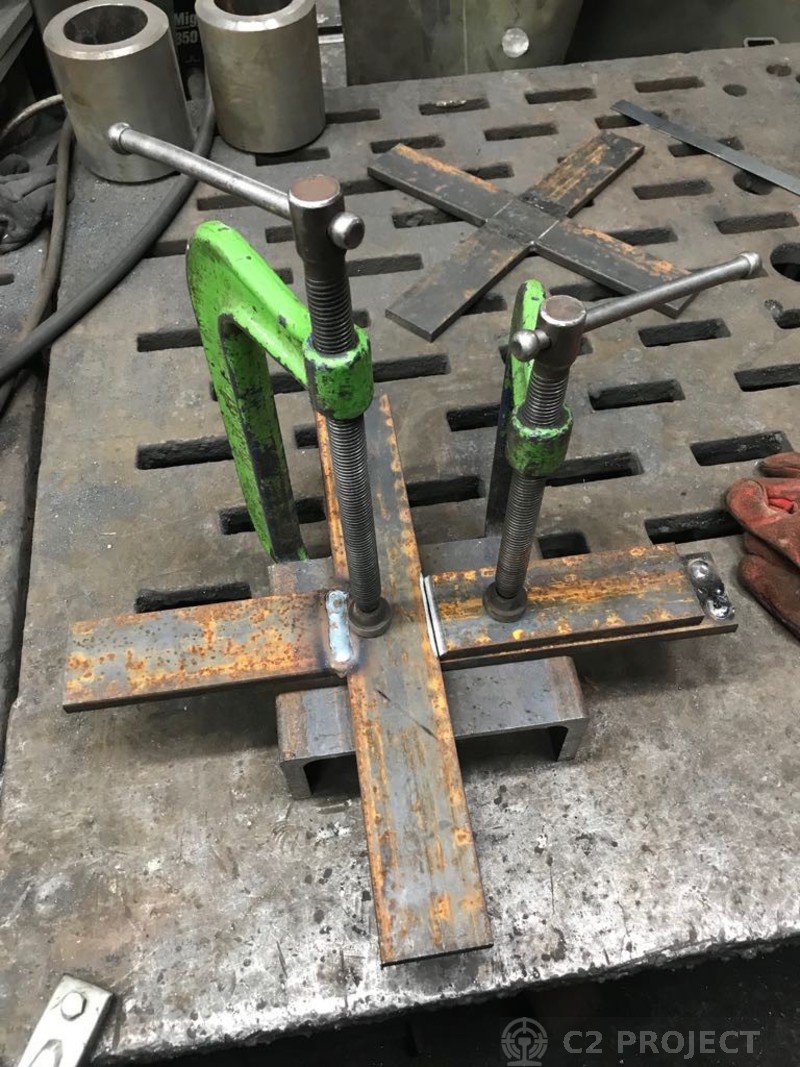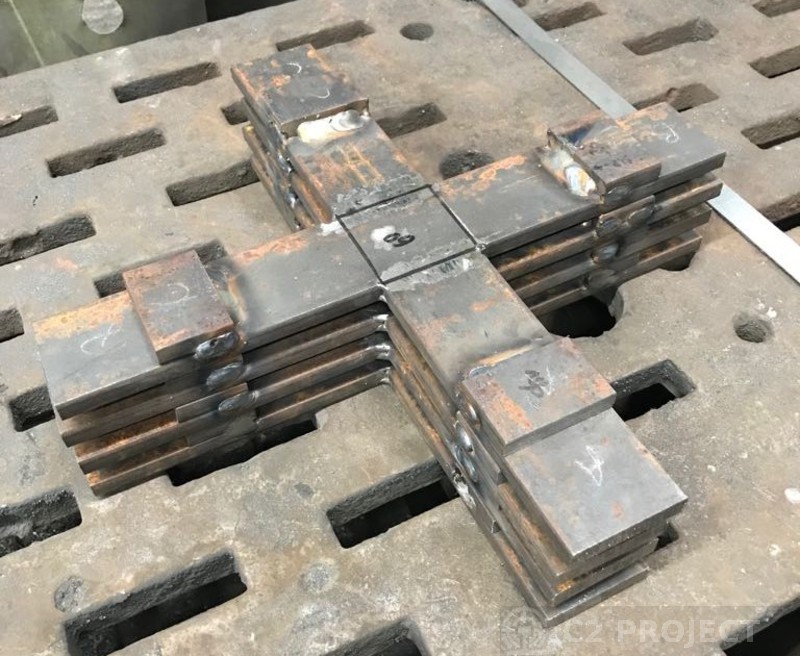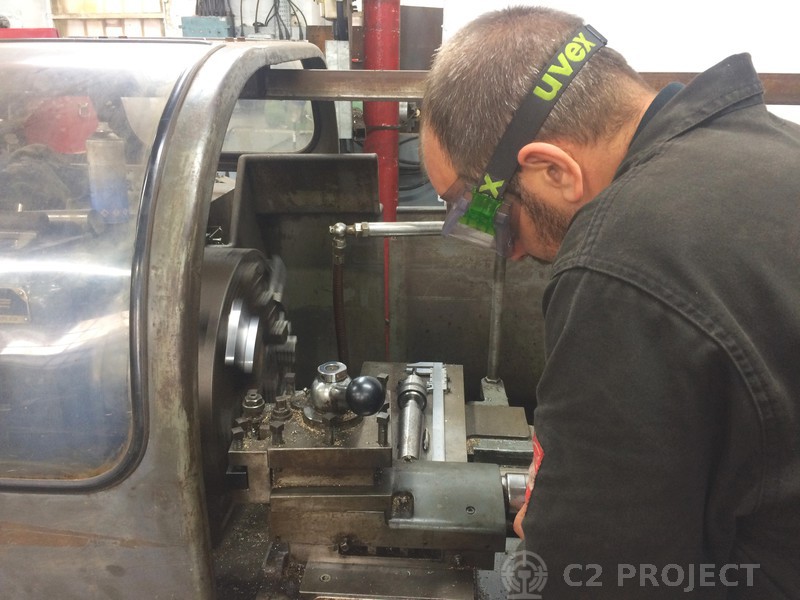 Sunday also saw Erle, Dave and Nick continue to work on brake gear components, drilling and reaming out holes for bushes, also cleaning up and painting other components.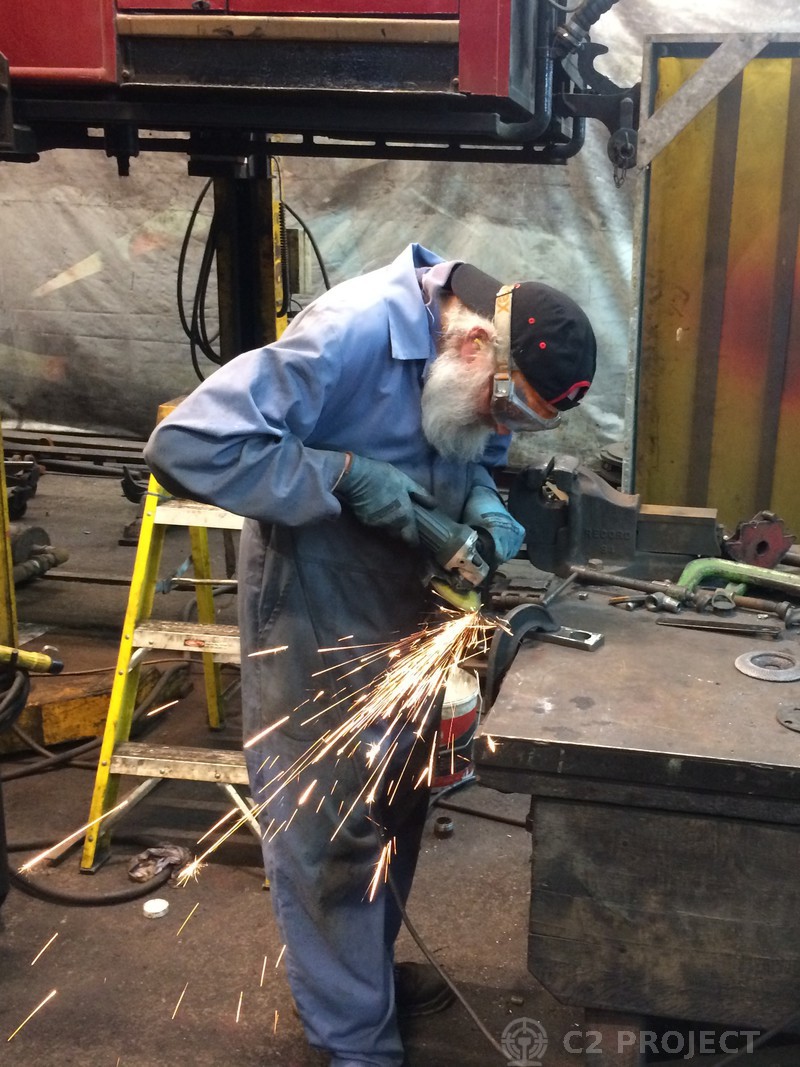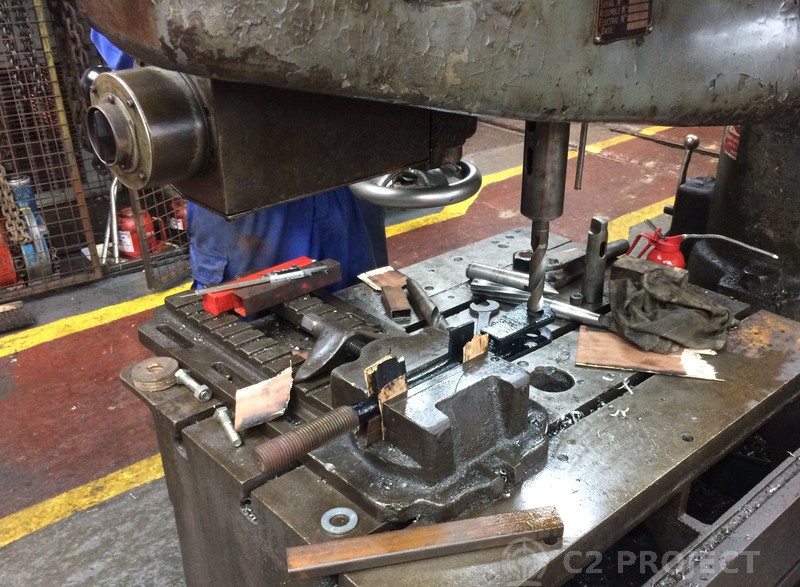 Meanwhile James removed the studs from the cylinder covers (some of which needed encouragement with the oxy-acetylene torch). He then gave the cylinder covers a final clean, followed by painting with a high-temperature corrosion-resistant paint. Paul compared the measurements of the cylinders and frames to the overhaul specifications and worked out how to measure the critical dimension on the motion brackets too.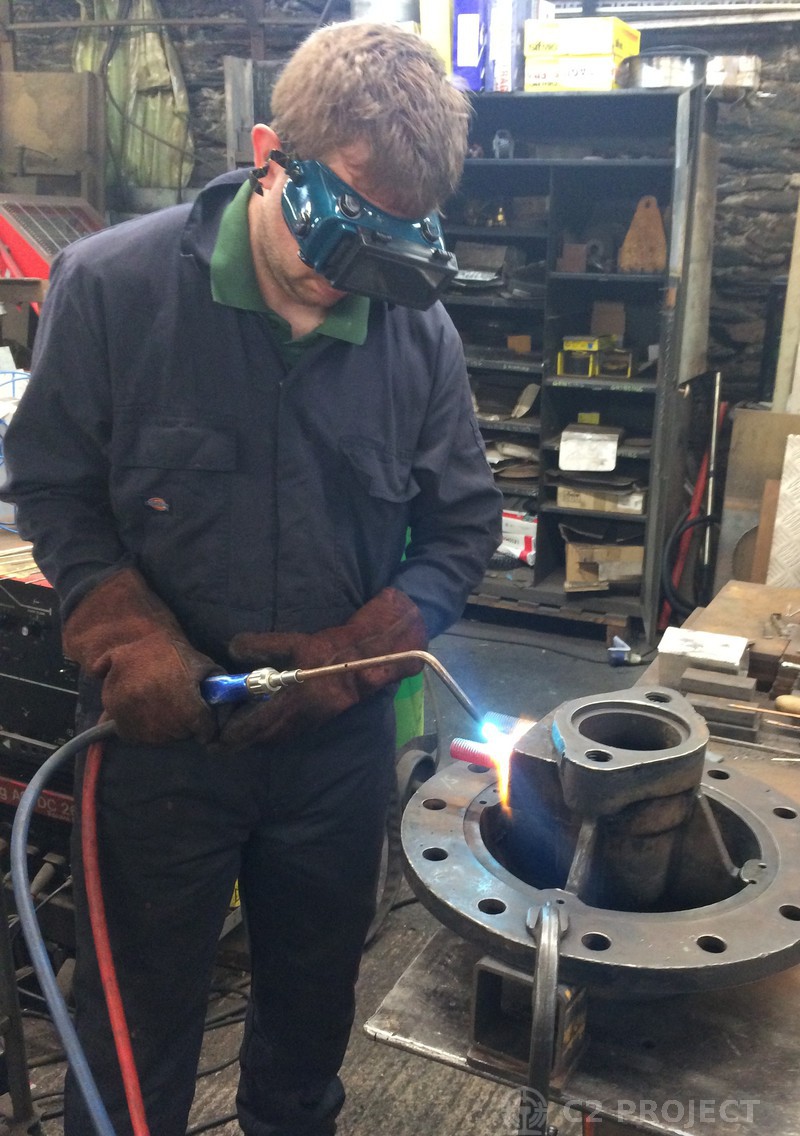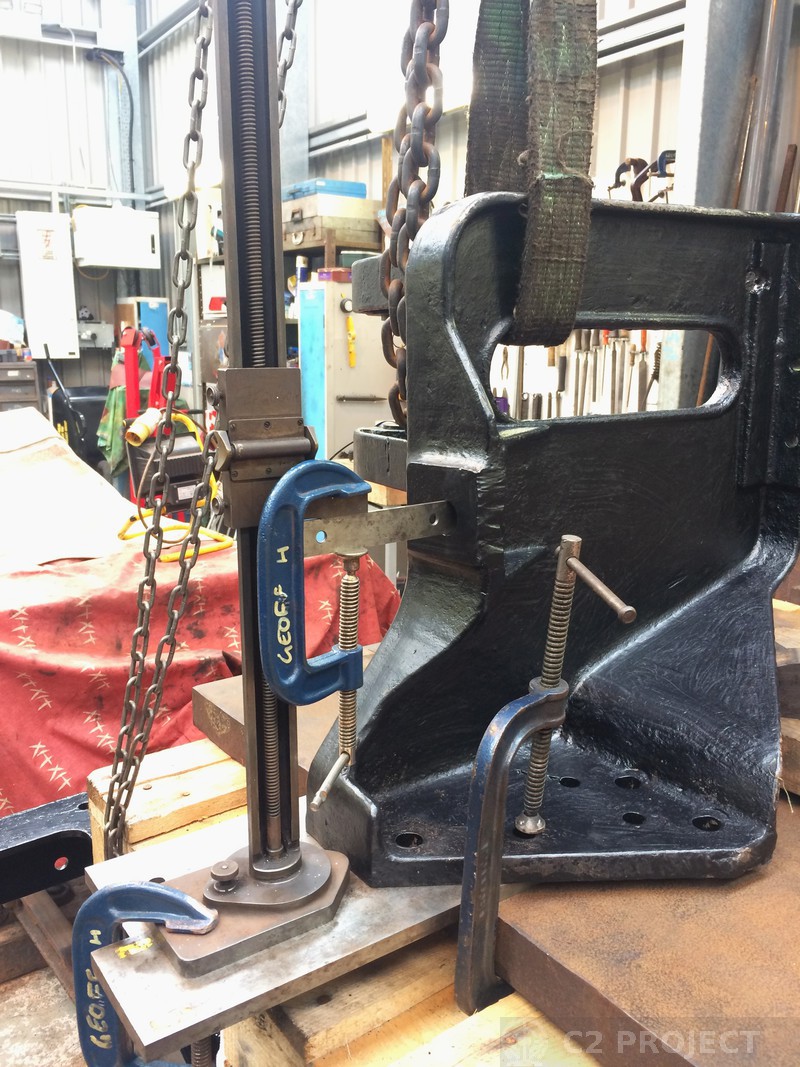 The working party dropped back down to just 4 people on Monday: Erle, Dave, Alan and Paul. Nevertheless good progress was maintained. Paul assembled some of the completed brake slack adjuster components while Dave continued to ream out holes for bushes and Erle painted the completed components.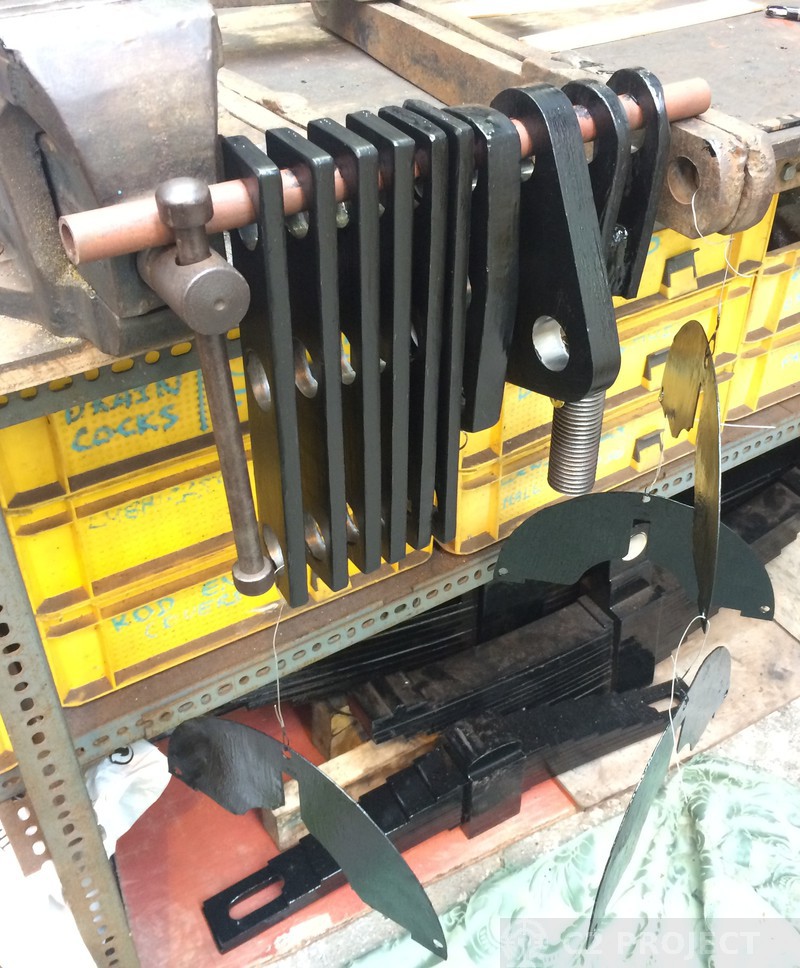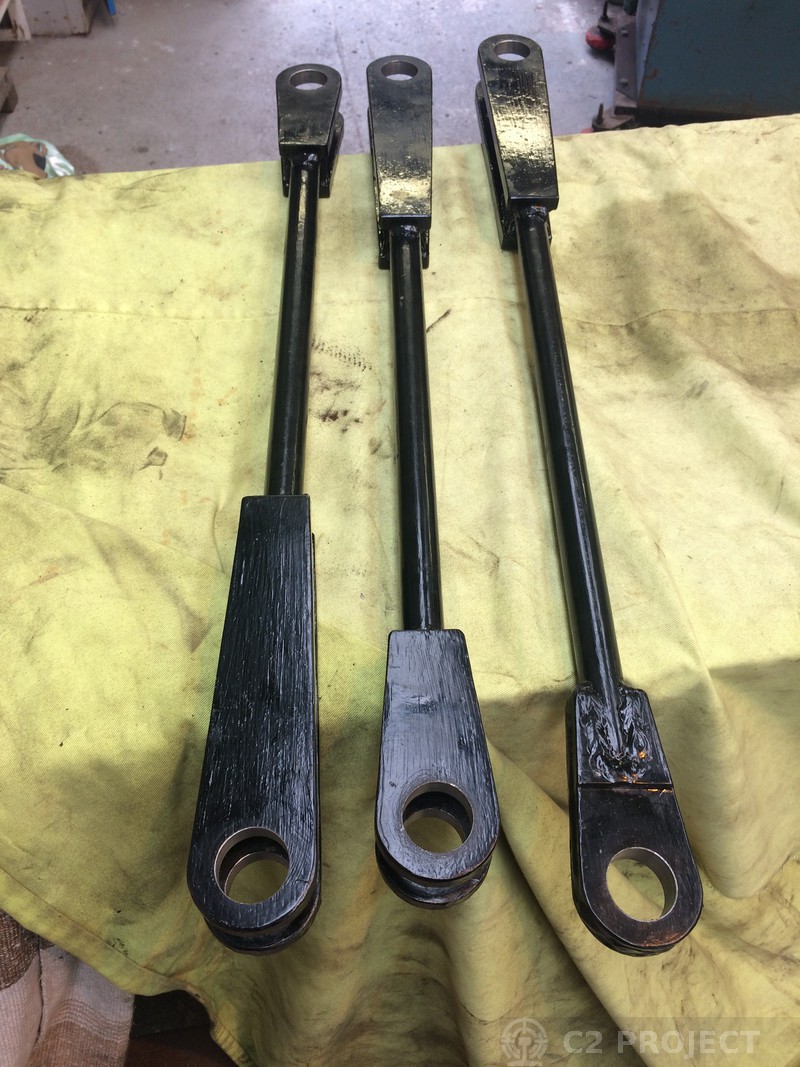 Erle then cleaned up the front cylinder covers; these are a simpler shape than the rear covers. Alan put the finishing touches to the first of his X-shaped jigs, and trial fitted it to a cylinder.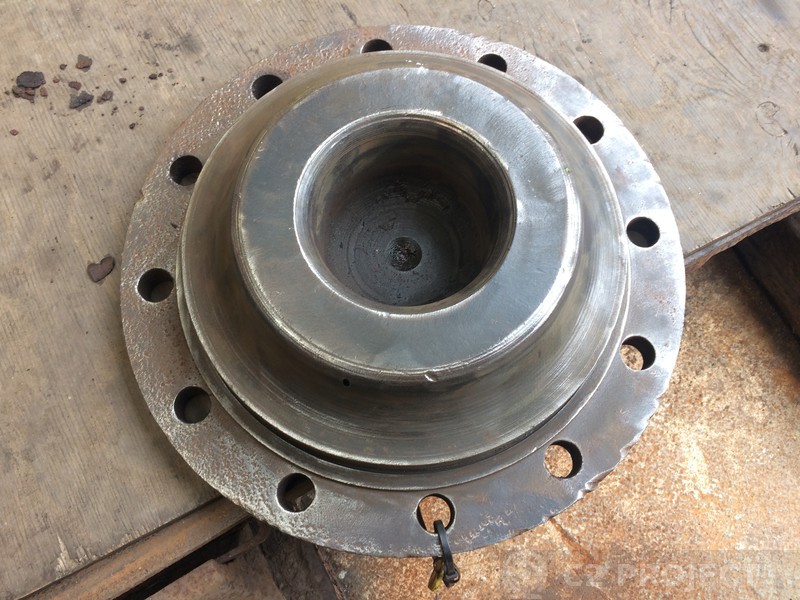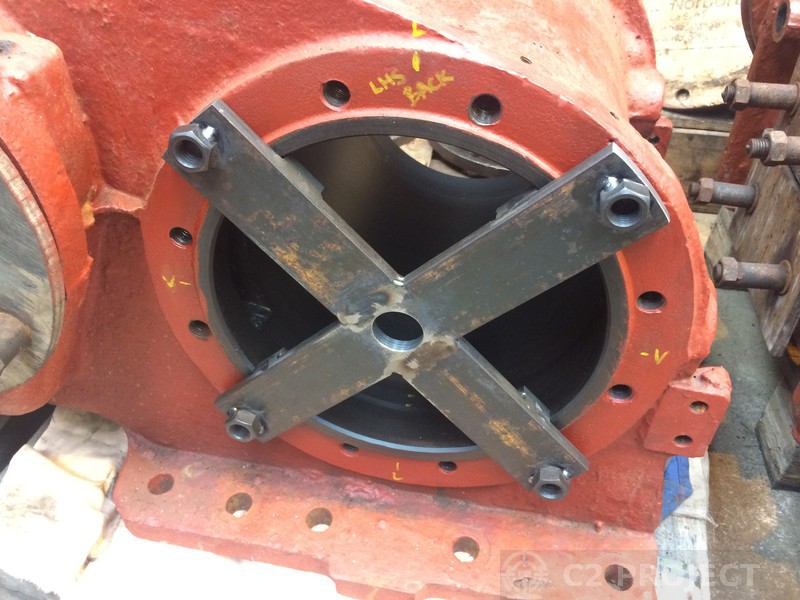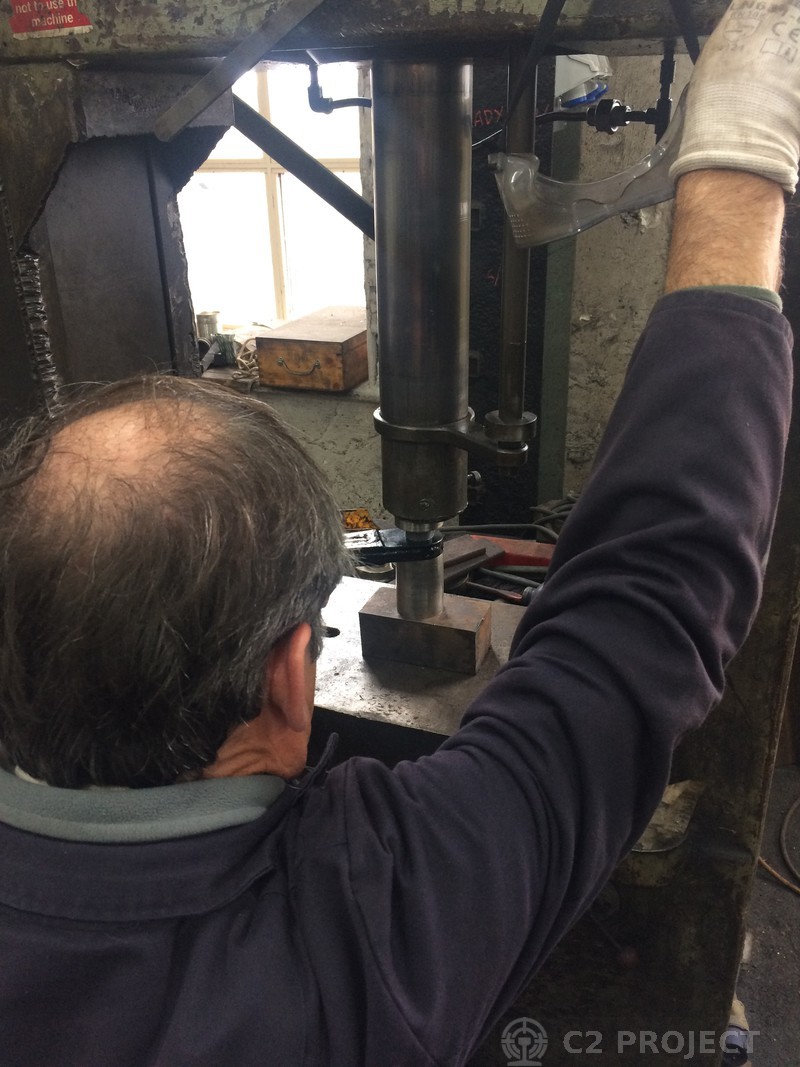 The final major task on Monday was to fit bushes to all the holes reamed in the brake gear components. Erle and Dave worked on this using the hydraulic press and a jig that Paul had made earlier.
All in all, this was a very enjoyable and rewarding working party. We completed a large number of brake gear components for both the loco and the tender, and we've made great progress with the cylinders and motion brackets. We're not far away from being able to trial-fit these to the frames for a careful measure up.
In September we hope to welcome some Russian guests to the C2 shed and show them our progress. They're from the
Pereslavl Railway Museum
and the Yekaterinburg Railway Museum. The C2 design originated in Russia and they have several Russian and European-built examples in their museums so we have plenty of common ground. And of course we'll keep our eye out for more sightings of the baby dragons!