Update from the Early March working party 2020
The early March working party was a quiet one. Unfortunately, three of our regulars, Paul and Dave 1 and Dave 2 had other engagements this weekend and so were unable to join us. However, Andrew, Chris and Erle were hard at work all weekend. We were even joined by Ed for the Saturday morning.
Andrew spent some time completing the remaining two dozen or so pins for the locomotive brakes. This involved stainless steel welding the heads and drilling the holes for the split pins. This has been a long drawn out job making all these pins by hand and in hindsight, would have been a perfect job for a CNC machine! Still, they are all complete now. There are a few more needed for the tender brakes but not very many fortunately.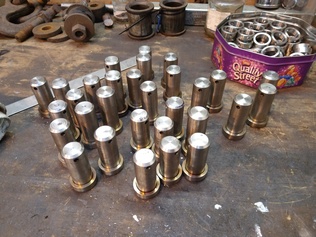 Chris mainly spent the weekend tinkering with the bits of the reverser, mostly the handle assembly. The fixed spindle for the handle has been tidied up, drilled out and a new spigot made and fixed in by roll pin (which you can see in the image below). This will be trapped inside the rotating handle once assembled. Chris also cleaned up the cranked handle itself and reamed out the holes for the screw and handle spigots. It needs more work but it's a lot better than it was. Finally, he managed to acquaint himself with the parting-off tool and made up a couple of washers (as per drawings) to space the handle off the cranked handle.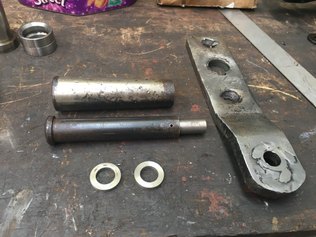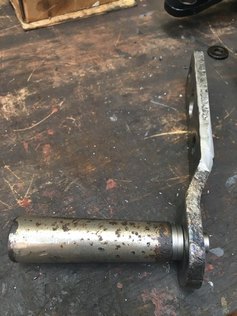 Erle has now almost finished the lubricators and is looking for a new project. One possible idea is to overhaul the turbo-generator. The turbo-generator is generally in a poor condition. The governor assembly had previously failed and all the parts are now kept in a box. Armed with a general arrangement drawing, Erle, Chris and Andrew laid out the parts and worked out how the governor valve works. It appears like a spring is used to keep the governor valve open. As the rotational speed of the generator increases, the position of two lugs, moving under centrifugal force operate a lever which closes the governor valve against the spring. Many of these parts will require drawing up and remaking. Unfortunately, we don't have any detailed drawings, only a rough general arrangement.