The September Working Party
This year, the regular date for our September working party turned out to be unfortunate as it clashed with another event that several of our members wanted to visit. Nevertheless, five of us attended the working party and made some useful progress.
Paul arrived first, and spent Thursday and Friday working on the loco brake hangers. These needed their holes drilling out and bushes pressing in. Paul set up a fixture on the Bridgeport milling machine with a digital readout, which made it easy to position the three holes in the correct positions relative to each other. Once the holes were all to the correct size, he used the hydraulic press to fit the bushes that we already had in stock. Meanwhile, Colin and Jon were kept busy keeping the Welsh Highland Railway service running: Jon had a day firing a Garratt while Colin drove another Garratt.
Having just returned from a trip to Eastern Europe to see relatives of the C2 there, Paul had found that there were several locations where the loco number was commonly stamped into components. Areas such as the radius rod or lifting link were the most common place to find the stamped loco number; also the front bufferbeam and the regulator handle. Paul therefore had a closer look at all these components on our loco, but sadly found no more clues to our loco identity. It seems the Chinese were not so thorough with their number stamps!
On Saturday, Paul was joined in Boston Lodge by Colin, Erle, Dave and Ed. Erle and Ed started by making a press tool for inserting some large bushes into the loco brake weighshaft bearings, and then used it to press the bushes in. They then completed some more brake components by pressing in smaller bushes where necessary. Dave painted another batch of brake links for the tender; we'll press the bushes into these next time when the paint has hardened. All in all we have completed 20 more brake gear components at this working party. The loco brake gear is now nearly finished and the tender brake components are progressing well too.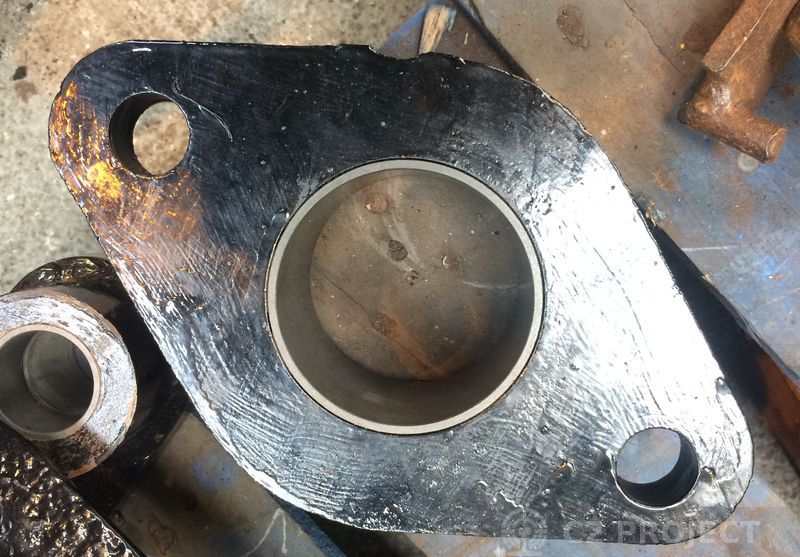 Meanwhile Colin and Dave took on the challenge of separating the coupling rods into their three sections by removing the knuckle joint pins. We've tried and failed to do this in the past. However, a combination of an angle grinder, oxy-propane torch, big hammer, several drifts and a hydraulic press eventually succeeded with the first rod we tried. We have three coupling rods (one spare) and Colin did some preparatory work on the other two – hopefully we'll separate them next time.

Now that they're separated the rod sections are much easier to handle and work on. Erle set to work cleaning and polishing one of the sections, to see if we could improve its rather drab appearance.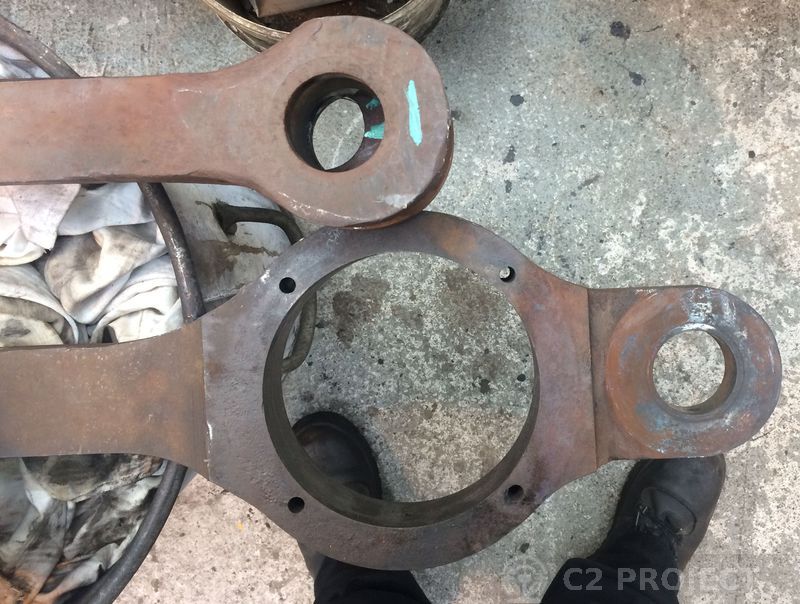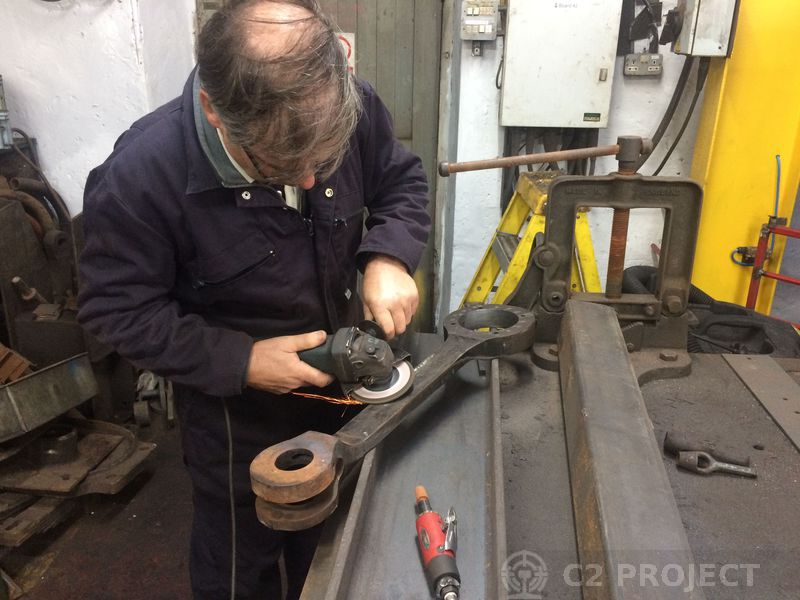 Since assembling the tender frames we've been aware that there were some bits needing a touch-up of the paintwork. In particular some of the areas inside the frames, and the nuts and bolts used to attach the hornkeeps. Ed and Dave gave the tender frames a clean down with white spirit and then set to work with the black gloss paint to achieve a uniform finish on these areas.
Last working party we had made good progress cleaning up the cylinders and covers, but had not had time to finish the front covers. Colin used a needlegun to remove the build-up of scale in the recesses of the front covers, to get them ready for painting.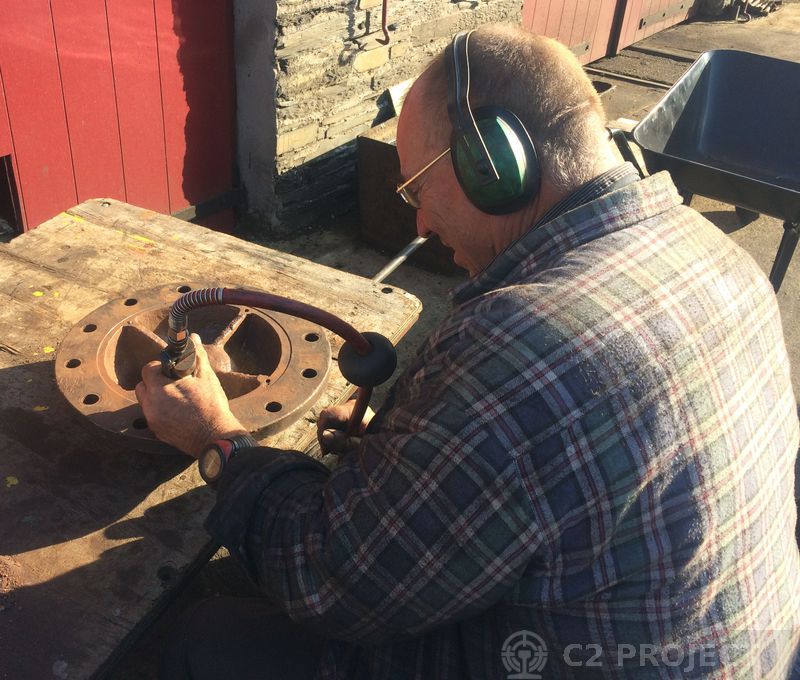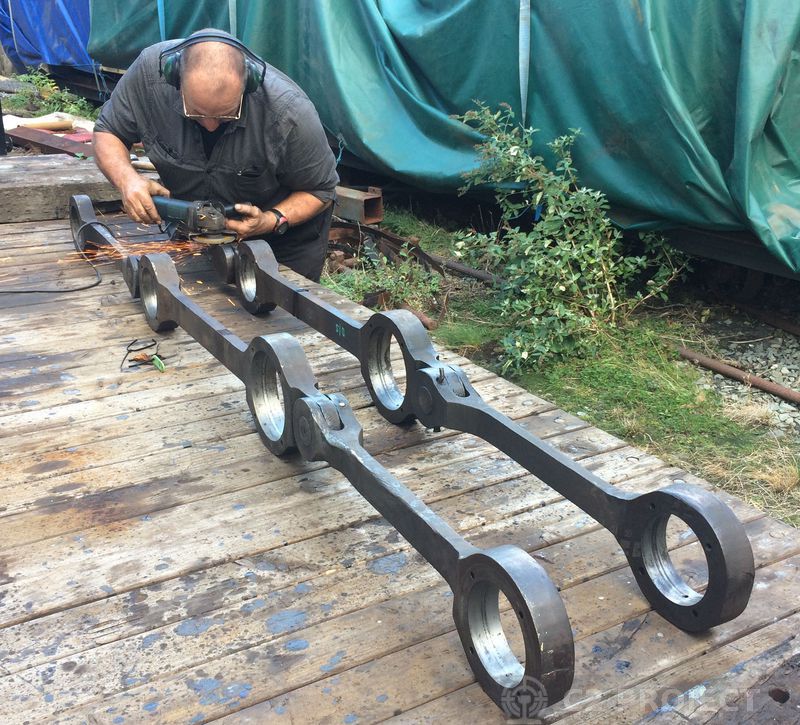 Our friend Roland was also working in Boston Lodge, and was having a tidy-up of some old store cupboards. He had been involved in the construction of Single Fairlie 'Taliesin' about 20 years ago, and discovered a stash of materials and parts that had been left over from that project. He offered them to us in return for helping him empty and shift the cupboards! So we now have some useful lumps of bronze and steel, a collection of various brand-new steam valves, a pressure gauge and some tools. Surely some of these will be useful in our work! Thanks to Roland for his generosity.
Colin, Dave, Erle and Ed continued the good work on Sunday. They continued to clean up the coupling and connecting rods, and once they were polished a coat of protective spray wax was applied.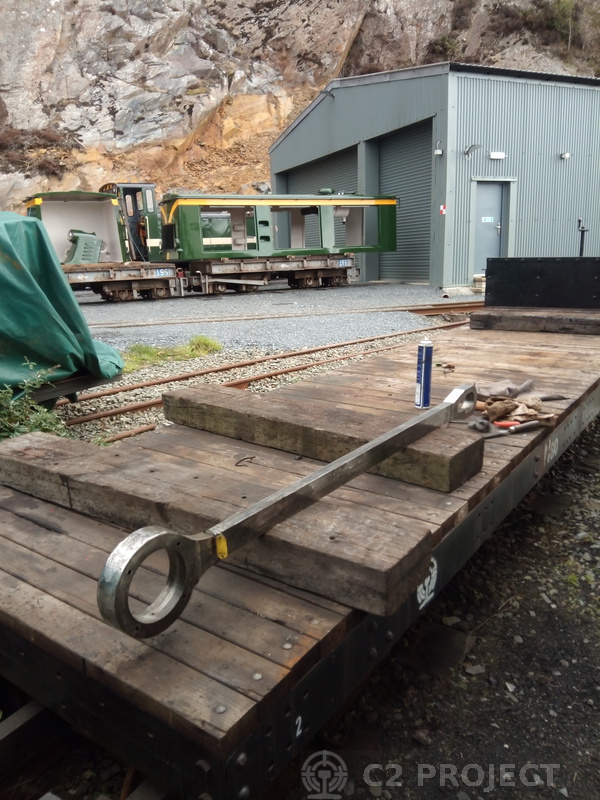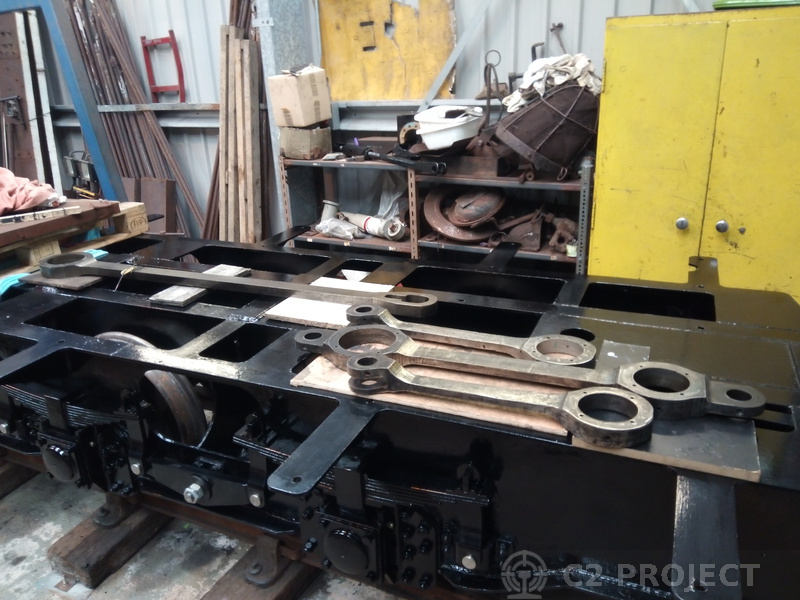 Erle finished off the previous day's job by pressing the bushes into the brake links that had been painted on Saturday.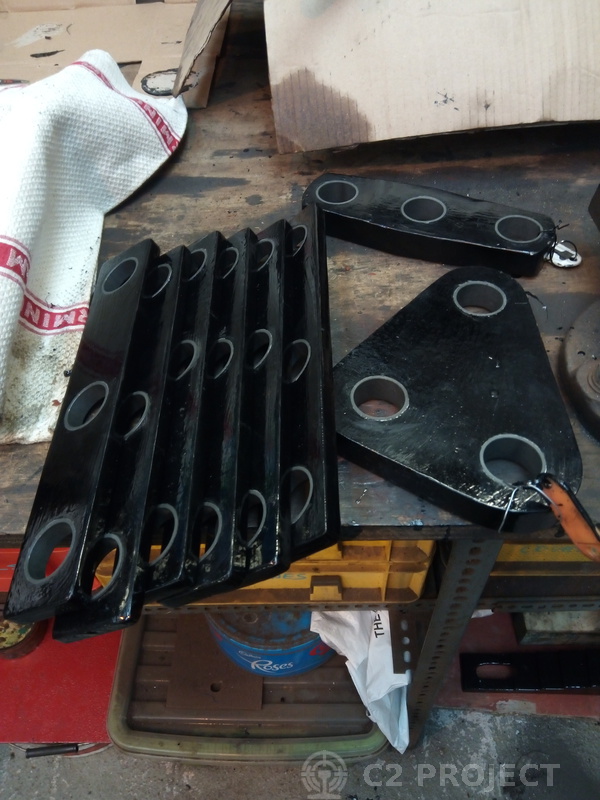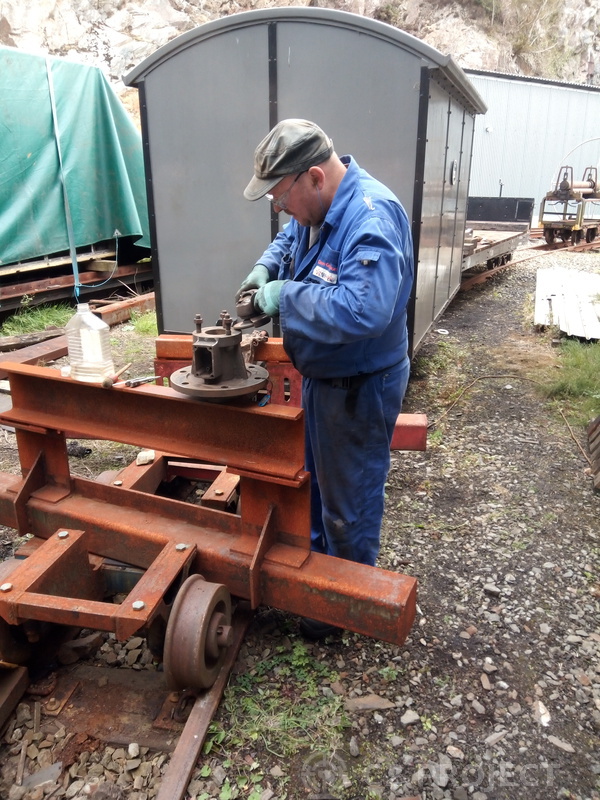 After completing the cylinder front covers, the valve chest covers were also cleaned up and painted. Ed also made some sealing joints for the valve chest end cap oil chambers, to replace the old ones.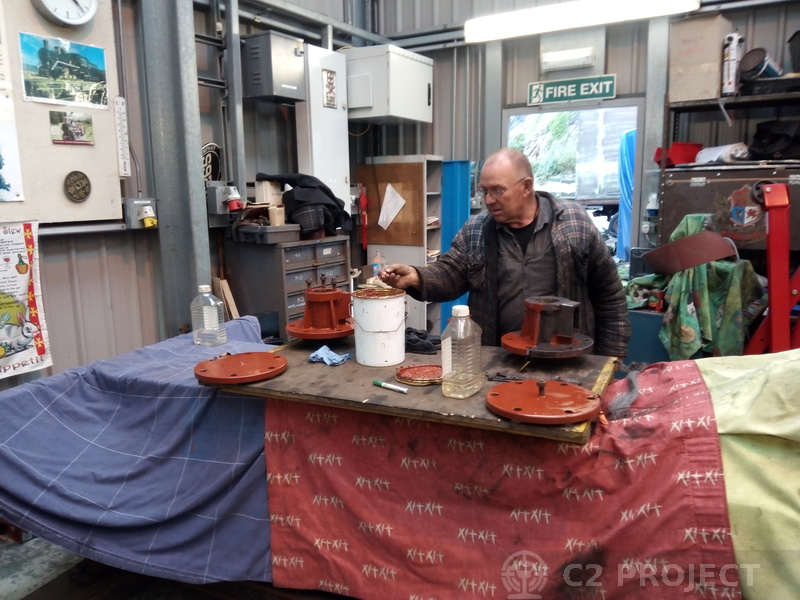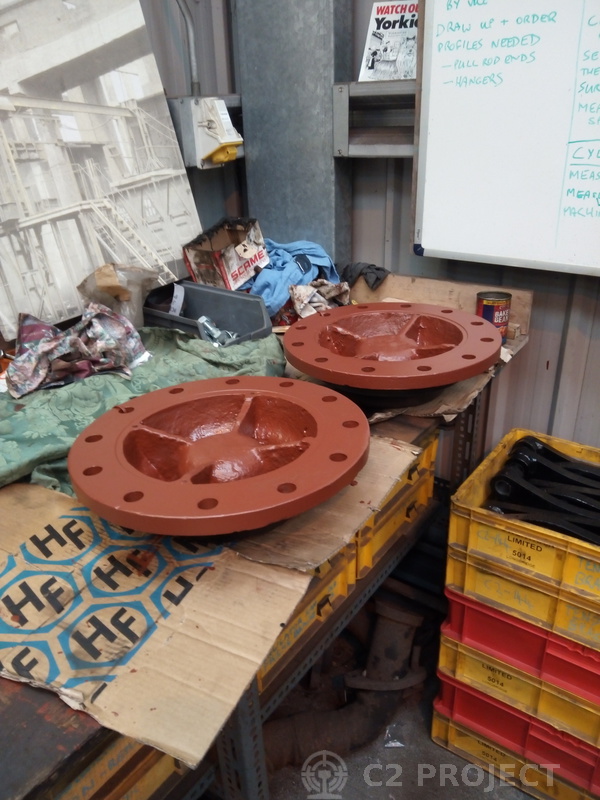 Another satisfying working party with some good progress made. We expect to be back up to full strength next month.