Mid April Update – Tender frames cleaned and painted
On Wednesday 11th April, Andrew was back at Boston Lodge to welcome GT Problast (www.gtproblast.com) to site. Their task was to grit blast the now completed tender frames back to clean metal prior to painting. They managed this majority of this during the morning and right after lunch, Dylan and Mike from the workshops helped Andrew turn over the frames using the Manitou so that it could be completed. GT problast then has time to start the cleaning up of the Boston Lodge Works Hunslet diesel shunter body panels. This locomotive has recently been repaired by volunteers, following a clutch failure during Welsh Highland Railway phase 4 construction.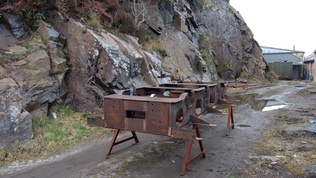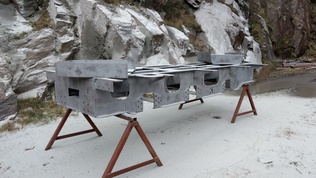 Overnight the clean tender frames were moved into the paint shop ready for priming.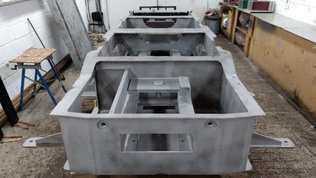 On Thursday and Friday primer was applied by Andrew working alone. This proved to be hard work contorting into all the various nooks and crannies. Fortunately this was complete by Friday mid-afternoon allowing him to drive the evening train for "The Snowdonian" Passengers Boston Lodge tour. A rare outing for diesel locomotive Vale of Ffestiniog on a passenger train.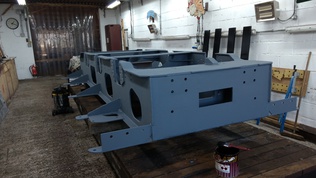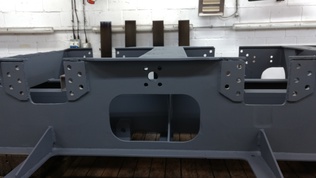 On Saturday and Sunday, Andrew was in the paint shop applying the first coat of paint over the primer. Fortunately, the crew of the locomotive Blanche were back on shed by early afternoon having crewed the Ffestiniog portion of "The Snowdonian" special train. Driver Nick and Fireman Tim, both kindly helped Andrew in the paintshop for the rest of the afternoon. Tim concentrated on Harold's body panels, while Nick helped on the C2 tender frames. On Sunday, Andrew was joined by Dan and Nic who volunteered to help after a chat in the pub the night before. This meant that the frames were fully painted by mid afternoon on the Sunday, giving Andrew time to work on the loco buffer beams. Painting the 2nd and 3rd coats on the tender frames will continue towards the end of this week when the next official working party starts.