The design of our 'C2' originated in Russia in the period between the two world wars. Rapid industrialisation led to an increase in the use of narrow gauge railways, and Kolomna Works designed a new 'standard' 750mm gauge locomotive known as the Class 159. This was an 0-8-0T+T with a 4 tonne axleload and 4-wheel tender. One thousand were built between 1930 and 1941, at four locomotive factories. However, the Class 159 was not a great success; in particular steaming was poor and fuel consumption high.

In 1941, Kolomna Works developed an improved, modernised version of the Class 159. This was designated Class P24, and featured a significantly larger boiler with bigger firebox and more superheat. To remain within the 4 tonne axleload limit, the Class 159's side tanks were omitted, and a larger 6-wheel tender was used. Only nine locos were built before the USSR was invaded in September 1941; one of these is shown in the picture, and the resemblance to the C2 is clear.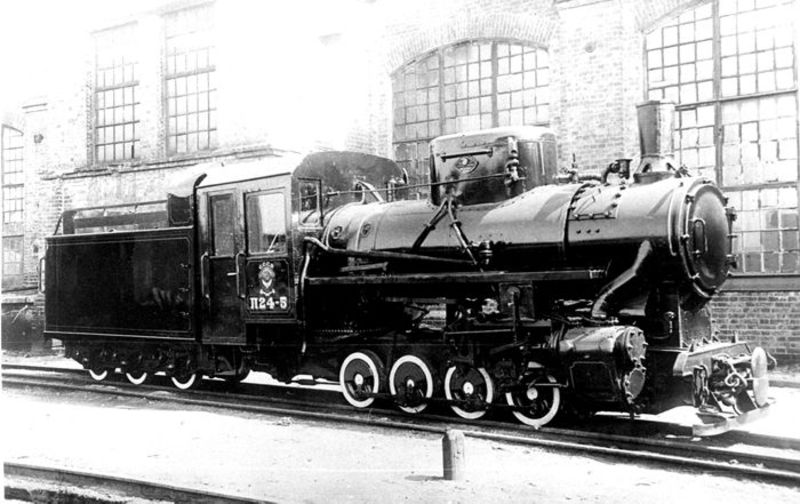 At the end of the War, there was an urgent need for reconstruction, and narrow gauge railways were key to this process. Operational experience with the P24 locos led to some small revisions to the standard design, which was now designated PT-4. Between 1945 and 1959, approximately 4500 locomotives were built to this design in Russia and Eastern Europe. The majority of the latter were supplied to Russia as war reparations. This surely represents the most numerous narrow-gauge locomotve design worldwide. The table below summarises where the PT-4 locos were built; note that some manufacturers used alternative designations for the class.
Manufacturer
Country
Class
Quantity
Date
Vortinsk
Russia
VP-1
VP-2
VP-4
~2300
1947-1959
Tampella
Finland
PT-4
KF-4
342
1946-1952
Lokomo
Finland
PT-4
KF-4
253
1946-1952
Skoda
Czechoslovakia
KC-4
424
1949-1952
MAVAG
Hungary
KV-4
240
1950-1955
Chrzanow
Poland
KP-4
901
1950-1959
There were detail design variations between manufacturers and as construction proceeded. These included:
The degree of welding in the boiler construction
The use of a corrugated firebox crown
The pattern of chimney, dome or cab
Braking systems
Livery (generally green or black)
81 of the Chrzanow locomotives were supplied directly to China in 1952. Other locos of this class supplied initially to Russia also ended up in China. These included later Chrzanow locos, plus examples from Skoda and MAVAG. It appears that designs and 'knowhow' were also supplied, to enable the Chinese to build their own locomotives.

By 1958, locomotives of this design were being built in China. Once again, a confusing variety of class designations were used to describe the same basic 28-tonne locomotive. These included C2, YJ, KP-4, KM-4, ZM-4, ZG and ZM16-4. The major builders were Shijiazhuang Power Machinery Plant in central China (~575 locos), and Harbin Forest Machinery Plant in the north east (~220 locos). Several other works built smaller quantities, but information is sketchy; the total number built in China was probably about 825. When combined with the imported locos there would have been almost 1000 28t locos in total. One design change compared to the PT-4 was the use of an external regulator linkage, with a gland on the side of the dome.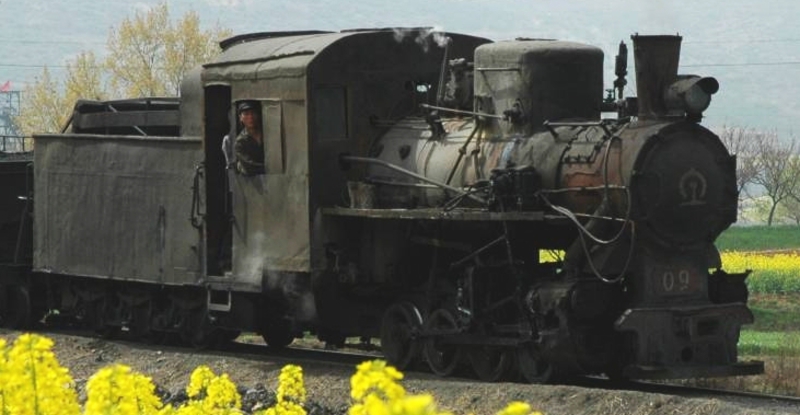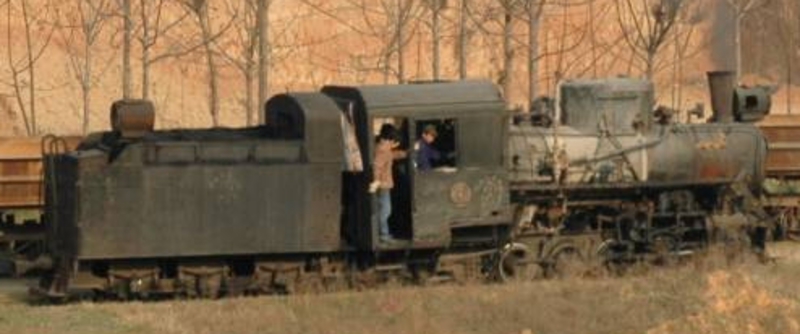 There were many design variations amongst the Chinese-built C2s. These included:
Later locos have a cab that is wider and longer than the early ones; a few locos had cabs that were wide above the waist and narrow below
Boiler variations as above
In addition to the standard 6-wheel tender, there are two variations of bogie tender
Some locos were fitted with air brakes
Later locos have roller bearings in the coupling and connecting rod ends
Very numerous detail variations, probably carried out locally
C2 construction ended at Harbin works in 1987/88; our C2 'Dahuichang Number 4' was one of the last few built in the mid 1980s.
A common misconception is that the C2 is similar to the PX48 locomotives still to be found in Poland. The PX48 is a considerably larger locomotive. Some PX48s were exported to China where they were known as BL. The Chinese built similar large 42-tonne 0-8-0s under various designations including 'C4'. However, several locos of the PT-4/KP-4 classes still exist in Russia and Eastern Europe. Locations include the Pereslavl Narrow Gauge Railway Museum, the Nizhny Novgorod Children's Railway and Rostov-on-Don in Russia, the Estonian Railway Museum, the Gulbene-Aluksne Railway in Latvia, the Cisna Tourist Railway, Poland, and in Hungary.
'East European Narrow Gauge', Keith Chester, 1994, ISBN 1-873150-04-0
'Russian Narrow-Gauge Steam Locomotives', Leonid Moskalev, 1997, Zheleznodorozhnoe Delo